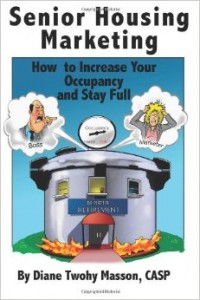 Does your team need to recharge their enthusiasm?  Has the marketing team gotten off track?  Do you need to sharpen your sales techniques?
Try a weekly marketing book review.  Whether your senior living team is one sales person and the executive director or your team consists of three to six marketing people, it's time to get the creative juices flowing again!  If a sales team is not learning and growing, it becomes complacent and stagnant.
First, select a book to review.  There are lots of great choices out there.  Look around on Amazon.com, ask your sales people for ideas or get suggestions at senior housing conferences.  My marketing teams are currently reading "Senior Housing Marketing – How to Increase Your Occupancy and Stay Full," by Diane Twohy Masson. (Yes, this is my book.)   We have completed four chapters in five weeks.  Our next book review conference call is chapter five scheduled for Tuesday.
It has been wonderful to watch the teams grow together.  Participants include entrance fee sales people for independent living in Continuing Care Retirement Communities, assisted living marketers and skilled nursing admissions.  They come from five areas and as the weeks progress the team members feel freer to share what has worked or has not worked in their area and other team members benefit from their experience.
We have had some great discussions including how many calls (in the existing database) it takes to get X amount of tours or people coming to the community for events.  Best practice numbers for one team member were 157 voice-to-voice calls in 3 weeks, which resulted in 23 families coming into view the community.   These are great numbers and after the call, other team members started asking for help on how to do this themselves.   It seemed to bring out a natural – healthy – competiveness amongst the team.
Everyone starts thinking team and has a better understanding of the goals, because they are discussed at the weekly book review meeting (if you have multiple teams – do a conference call).   Executive directors, regional marketing directors and directors of sales and marketing in senior housing often assume that everyone on the team knows the goals.  Maybe they do or maybe they don't.  Why not review the goals weekly during your team book review?  The number one goal is to have 100% occupancy, but what do they need to do this day or week in order to hit that goal this month or this year?  Break it down for them and be their coach and mentor during the book review…try it… it works like a charm!
Diane Twohy Masson is the author of "Senior Housing Marketing – How to Increase Your Occupancy and Stay Full," available for sale at Amazon.com.  If your curiosity is piqued to inquire on Diane's availability to speak at a senior housing conference (CCRC, independent living, assisted living, skilled nursing or memory care) – please call: 206-853-6655 or email diane@marketing2seniors.net.  Diane is currently consulting in Southern California for Freedom Management Company, the proud debt-free owners of Freedom Village in Lake Forest and The Village in Hemet, California.  For more information:Twitter: @market2seniors Web: www.marketing2seniors.net Blog: http://marketing2seniors.net/blog/