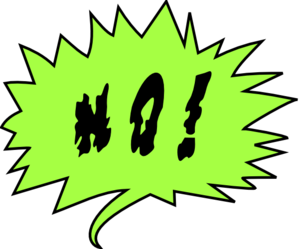 It would be very interesting for independent, assisted living and group homes to share examples of people who moved into your senior living community who initially said, "No, I don't want to leave my home!"  How many senior living residents have you experienced in this situation?
Two weeks ago, I heard the story of an independent couple whose Boomer children moved them one hour closer to them.  The dad said that he had left heel marks all the way up the freeway, because he didn't want to move.  Now, both he and his wife love living at their new Continuing Care Retirement Community that is located by their children and grandchildren.
Tonight, I heard about Jim and Joan's dad.  He was clinically depressed and stayed in his pajamas all day.   He only put on clothes when Jim picked him up (drove him one block) to spend time with his wife and grandchildren.  Once his dad, Dwayne, got to their house and had dinner, he didn't want to leave, even at 11:00 PM.  Jim and his wife Carol both had to be at work at 7:00 AM.  They literally had to take a resistant Dwayne back to his home each evening.  This went on every night for one year.  Jim finally reached the breaking point.
Jim and his sister Joan went to find a retirement community for their dad.  They had it all set up and then drove their dad to his new home.  The entire way there, Dwayne kept saying, "No, no, no!"  They said, "Dad, you will love it, give it a chance."  They showed him his new home and he was still resistant.  Jim kept saying, "Dad, give it a chance," and left.  Two weeks later the dad was happier than he had been in his own isolated home.  Dwayne spent five of the happiest years of his life there.  Medication management and socialization had improved the quality of his life.
Nine years ago, my own mom was struggling (for over a year) in the independent living area of a Continuing Care Retirement Community.   My sister, husband and I moved all my mom's stuff to assisted living while her granddaughter took her to lunch.  My daughter drove my mom back to her new home in assisted living.  We were all there to greet them.  My mom was shocked, but what could she do?  We had moved her.  It was done.  The staff was all on board and had acclimated her before we left.  Oh, the guilt I felt, but knew it was the right thing for her.  We got a call in the night, because my mom had peed in a garbage can.  Was it defiance or dementia?  We will never know, but two weeks later she was happy and content.   She steadily improved with three nutritious meals a day and medication management.  My mom enjoyed seven years in that supportive environment.
Is it mean to move someone saying no?  Or is it the best thing in the world?
Please share your successes, failures or comment below to join the conversation and interact with other senior living professionals on what is currently being effective to increase occupancy on a nationwide basis.
Diane Twohy Masson is the author of "Senior Housing Marketing – How to Increase Your Occupancy and Stay Full," available at Amazon.com with a 5-star rating.  The book is required reading at George Mason University as a part of its marketing curriculum.  Within this book, the author developed a sales & marketing method with 12 keys to help senior living providers increase their occupancy.   Masson developed this expertise as a marketing consultant, sought-after blogger for senior housing and a regional marketing director of continuing care retirement communities in several markets.  She has also been a corporate director of sales and a mystery shopper for independent living, assisted living, memory care and skilled care nursing communities in multiple states.  Currently, Masson is setting move-in records as the regional marketing director of two debt-free Continuing Care Retirement Communities in Southern California – Freedom Village in Lake Forest and The Village in Hemet, California.  Interestingly, this career started when she was looking for a place for her own mom and helped her loved one transition through three levels of care.
© Marketing 2 Seniors| Diane Twohy Masson 2013 All Rights Reserved. No part of this blog post may be reproduced, copied, modified or adapted, without the prior written consent of the author, unless otherwise indicated for stand-alone materials. You may share this website and or it's content by any of the following means: 1. Using any of the share icons at the bottom of each page. 2. Providing a back-link or the URL of the content you wish to disseminate. 3. You may quote extracts from the website with attribution to Diane Masson CASP and link http://www.marketing2seniors.net For any other mode of sharing, please contact the author Diane Masson.