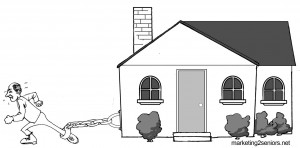 There was an overwhelming response of ideas and tactics through Linked In of "How To Move Someone Saying, "No!" (Part 1).
Many people felt that you should never force a senior parent to move.  Once the conversation specified parents with dementia, then everyone was onboard with possible solutions.  Let me sum up the best strategies and "schemes" on how to move someone who is at risk and seems chained to their current home.
Move your parent directly from a hospital crisis to a senior living community.
Be ready to transition your parent to an assisted living community when the rehabilitation is over.
Say, "As soon as you are better, I will move you back to your home."
The primary care physician can convince mom or dad that it is time to move and list the reasons why.  (This generation is programed to abide by the doctor's recommendations.)
Bring a contractor by your parent's home and say, "We need to work on the house and the plumbing will be shut down for two weeks.  You are only going to move temporarily while the house gets worked on…"
Sample stays of two to seven nights – to test-drive a retirement community.
Show them where you want them to move and compare with an awful place they dislike.
Send them to an adult day program for several weeks before moving them in full time.
Sometimes you just need to push them to the next step when your parent's health dictates it.
The safety of your parent means switching the child/parent roles.  You the Boomer child becomes the parent and makes the decision.
Cajoling: Asking for the GIFT of peace-of-mind from worrying about them.
Cultivating a move can take months.  Include as many lunches and residents activities as possible at a prospective senior living community.
FYI – If a retirement community knows that you are struggling they will triple their efforts to help you and support your parent(s) integration into their community.
Remember that 95% of cognitive seniors who move all say, "I wish that I had moved sooner."  Once they start thriving they won't want to move back to their isolated home.  Patience and empathy are two necessary ingredients that must be present for your parent's transition.
Any more ideas?
Please share your successes, failures or comment below to join the conversation and interact with other senior living professionals on what is currently being effective to increase occupancy on a nationwide basis.
Diane Twohy Masson is the author of "Senior Housing Marketing – How to Increase Your Occupancy and Stay Full," available at Amazon.com with a 5-star rating.  The book is required reading at George Mason University as a part of its marketing curriculum.  Within this book, the author developed a sales & marketing method with 12 keys to help senior living providers increase their occupancy.   Masson developed this expertise as a marketing consultant, sought-after blogger for senior housing and a regional marketing director of continuing care retirement communities in several markets.  She has also been a corporate director of sales and a mystery shopper for independent living, assisted living, memory care and skilled care nursing communities in multiple states.  Currently, Masson is setting move-in records as the regional marketing director of two debt-free Continuing Care Retirement Communities in Southern California – Freedom Village in Lake Forest and The Village in Hemet, California.  Interestingly, this career started when she was looking for a place for her own mom and helped her loved one transition through three levels of care.
© Marketing 2 Seniors| Diane Twohy Masson 2013 All Rights Reserved. No part of this blog post may be reproduced, copied, modified or adapted, without the prior written consent of the author, unless otherwise indicated for stand-alone materials. You may share this website and or it's content by any of the following means: 1. Using any of the share icons at the bottom of each page. 2. Providing a back-link or the URL of the content you wish to disseminate. 3. You may quote extracts from the website with attribution to Diane Masson CASP and link http://www.marketing2seniors.net For any other mode of sharing, please contact the author Diane Masson.