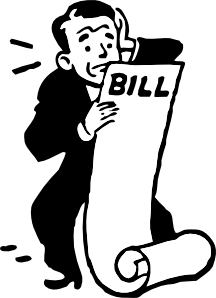 Yesterday, I learned of a senior resident in California who was denied HER long-term care coverage in skilled nursing, because she had missed one payment while ill.  Are you seriously kidding me?  This is flat out wrong and it makes me angry.  I have been in the senior living industry for fifteen years and always considered those with long-term insurance fortunate.
Now I realize that when a senior is most vulnerable is also when they need this coverage to kick in.  Who will fill out the paperwork?  All the Continuing Care Retirement Communities where I work graciously accommodate residents in this area.  But what about missing a payment to the long term care insurance company?  This seems bound to happen.
According the Alzheimer's Association one in three seniors die of dementia, so it would make sense that a senior with dementia or Alzheimer's might miss a bill or two.  So all those years of paying in for a higher level of care are negated when you are sick and demented?  Come on, this is not acceptable.
Long-term care insurance is a security blanket to offset the high cost of future health care as you age.  Many seniors have paid in for years to either have a policy that provides up to a certain dollar amount or certain time range (typically three years).
The senior and her family are all panicked.  The son made numerous attempts to call his mom's insurance company and would remain on hold for over forty minutes.  Unbelievably, after he finally reached them thirty days later, the policy had expired two days before for lack of payment.  If someone has been paying for long-term care insurance for years, you should not be penalized when you are sick and need the care the most.  The family is appealing.
Has anyone else heard of this happening?  Is this normal?  Do you think it is okay?
Please consider joining this exclusive Marketing2Seniors blog and comment below to join the conversation and interact with other senior living professionals on what is currently being effective to increase occupancy on a nationwide basis.
Diane Twohy Masson is currently writing a new book for seniors on how to select senior housing options.  Her first book, "Senior Housing Marketing – How to Increase Your Occupancy and Stay Full," is available at Amazon.com with a five star rating.  Masson continues to set move in records as the regional marketing director of two debt-free Continuing Care Retirement Communities in Southern California – Freedom Village in Lake Forest and The Village in Hemet, California.  Her mom's struggle with dementia is inspiring Diane to pen a third book to support adult children.
© Marketing 2 Seniors| Diane Twohy Masson 2014 All Rights Reserved. No part of this blog post may be reproduced, copied, modified or adapted, without the prior written consent of the author, unless otherwise indicated for stand-alone materials. You may share this website and or it's content by any of the following means: 1. Using any of the share icons at the bottom of each page. 2. Providing a back-link or the URL of the content you wish to disseminate. 3. You may quote extracts from the website with attribution to Diane Masson CASP and link http://www.marketing2seniors.net For any other mode of sharing, please contact the author Diane Masson.