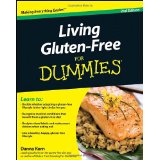 Are you hearing about more and more seniors who are either vegetarians or need a gluten-free diet? How are your chefs and dining directors accommodating these new dietary restrictions at your senior living communities? Do these diet-restricted seniors have more than one choice for lunch and dinner at your retirement community? Or are they stuck with the salad of the day or a vegetable plate?
Let's hear what is happening in our senior living industry on a nationwide basis. Join the conversation at the bottom of this blog.
Younger seniors want choices.   My Continuing Care Retirement Communities offer 14 entrees, which include vegetarian and gluten-free options. The culinary and serving teams have been trained to accommodate five gluten-free residents at one community. There can be no mishap because a gluten-free senior can get deathly ill if even a crumb of gluten is on their portion of food.
Soups that used to be made with a flour-based rue have been replaced with gluten-free options. A gluten-free pasta dish is always one of the 14 entrees. New gluten-free rolls and deserts are available now.
What are you doing to accommodate seniors with dietary restrictions? Have you had to expand beyond the standard three entrees a night? Please share what dietary changes you have made at your senior living community.
Photo credit: Living Gluten-Free for Dummies
Diane Twohy Masson writes this weekly blog to support and engage with other senior housing professionals.  Her first book is Senior Housing Marketing – How To Increase Your Occupancy and Stay Full.  Many sales teams and organizations have used the 12 keys contained in this book for their weekly book review.  Diane is working on her second book to help seniors select their senior housing options.  Masson enjoys setting move-in records as the regional marketing director of two debt-free Continuing Care Retirement Communities in Southern California – Freedom Village in Lake Forest and The Village in Hemet, California.
© Marketing 2 Seniors| Diane Twohy Masson 2014 All Rights Reserved. No part of this blog post may be reproduced, copied, modified or adapted, without the prior written consent of the author, unless otherwise indicated for stand-alone materials. You may share this website and or it's content by any of the following means: 1. Using any of the share icons at the bottom of each page. 2. Providing a back-link or the URL of the content you wish to disseminate. 3. You may quote extracts from the website with attribution to Diane Masson CASP and link http://www.marketing2seniors.net For any other mode of sharing, please contact the author Diane Masson.