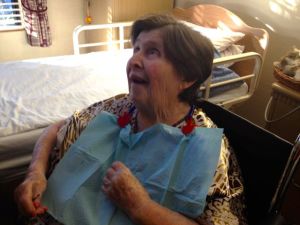 Am I a bad daughter? Yesterday, I learned the shocking truth that my mom has five missing teeth. My mom has lived in a higher level of care for over eight years. Seven years in assisted living in Seattle and the last 17 months in skilled nursing care in California.
My mother has had vascular dementia for over 10 years and I have been attending doctor appointments with her for years. Why did I never consider oral health and attending a dentist appointment?
It was pure luck that I visited my mom this week when the mobile dentist was there. Dr. Mark Mroch was awesome. He had a funny and engaging personality. My mom was completely enamored with him. They were joking back and I forth and I was cracking up.
According to dental records the five teeth were missing when my mom arrived in California. Now that I have processed this situation, I have some unanswered dental questions:
Why did no one tell the POA (Power of Attorney) of a dementia patient that her mom had five teeth missing when it was first discovered?
Has my mom with her dementia been responsible for her own dental hygiene for all these years?
Do assisted living and skilled nursing communities brush and floss teeth?
How often?
If the senior tells the caregiver that flossing hurts, do they just discontinue flossing and not tell the family?
Is a dentist required to request flossing in order for it to happen?
Can you please share what the oral hygiene policy is at your assisted living, skilled nursing or memory care community? I know the goal is to have the residents be as independent as possible and brush his or her own teeth. What if they are not doing a good job? When does staff step in to help? Do staff actually watch them brush their teeth or is this one of those back burner items that can get overlooked?
My mom lived in a social model of assisted living. She was borderline skilled nursing for a year or so before we moved her. Is the dental program for dementia different in a social vs. medical model of assisted living?
Please help me figure this out and maybe we can help some POA's out there who never thought about oral hygiene before. It's vital that we advocate for our loved one.
Thanks, Diane
Diane Twohy Masson writes this weekly blog to support and engage with other senior housing professionals.  Her first book is Senior Housing Marketing – How To Increase Your Occupancy and Stay Full.  Many sales teams and organizations have used the 12 keys contained in this book for their weekly book review.
Diane Masson has recently created a New Guide for the Silver Tsunami. Her second book offers a pro-active approach for a senior to navigate his or her way through the senior housing market. "Selecting Senior Housing Options for Seniors IN the Silver Tsunami" is coming soon to Amazon.com. www.tips2seniors.com
© Marketing 2 Seniors| Diane Twohy Masson 2014 All Rights Reserved. No part of this blog post may be reproduced, copied, modified or adapted, without the prior written consent of the author, unless otherwise indicated for stand-alone materials. You may share this website and or it's content by any of the following means: 1. Using any of the share icons at the bottom of each page. 2. Providing a back-link or the URL of the content you wish to disseminate. 3. You may quote extracts from the website with attribution to Diane Masson CASP and link http://www.marketing2seniors.net For any other mode of sharing, please contact the author Diane Masson.