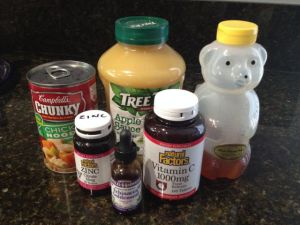 It's flu season and I unfortunately succumbed with a 100.8 temperature reading and a horrible cough. My husband, Chris, was sicker than I. As we nursed each other back to health, I thought about single seniors trying to manage flu symptoms alone in their home.
What if a senior didn't have enough groceries stocked at home? What if they were too weak to even make themselves a can of soup? Would they monitor their own temperature and take Tylenol every six hours?   What about drinking enough liquids? Will anyone check on his or her well-being?
The flu has not struck at the Continuing Care Retirement Communities that I represent. It makes me feel good to know if one of our residents got the flu, in the independent living setting, room service could bring them a meal of soup, fruit and tea or what they need to start healing. If a senior resident wondered if they need to be hospitalized they could walk down the hall to the complimentary wellness clinic and ask the nurse. If they were really bad the senior resident could pull their emergency cord and a nurse or emergency medical technician would come help them. Wow! I did not have that luxury. Frankly, I could have used it Friday night when I considered going to the emergency room, because it was getting hard to breathe.
Assisted living and skilled nursing support residents 24-hours a day, so if a senior got the flu, they have caregivers who can nourish them back to health.
Some critics might say that a community setting promotes the spread of flu, with all those people living and dining together. There are small steps senior living communities can do to reduce this challenge. First and foremost, install hand sanitizer in strategic places in the community, such as the lobby and dining room entrances.  Second, promoting flu shots.  Plus if people are sick, such as myself, they just need to stay at home to reduce the spread of infection.
What are your thoughts? Is it better to have the flu isolated in your home or in a senior living community?
With experience as both an industry expert and a loving daughter, Diane Twohy Masson is passionate about helping seniors find the retirement community that fits their price range, lifestyle, and needs. Her new guidebook offers a proactive approach to navigating the complex maze of senior housing options. It will help you understand the costs and consequences of the various possibilities, from home care to independent living, assisted living, group homes, memory care, and skilled nursing-care facilities.
"Your Senior Housing Options," will be coming soon to Amazon.com. If you sign up for my weekly newsletter on the right side of this blog, you will be notified when my new book becomes available. Check out my new website: Tips2Seniors.com or please follow me on Facebook.
Diane Twohy Masson is the author of "Senior Housing Marketing – How to Increase Your Occupancy and Stay Full," available at Amazon.com with a 5-star rating.  The book is required reading at George Mason University as a part of its marketing curriculum.  Within this book, the author developed a sales & marketing method with 12 keys to help senior living providers increase their occupancy.