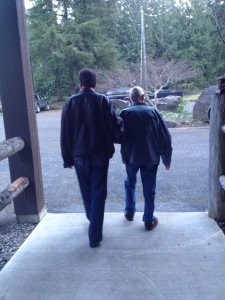 End of life decisions are so difficult for an advocate to make for his or her's senior parent. A few months ago, I had to make tough choices for my mom before she passed. A month ago, my husband and his family faced difficult choices for his dad.
My father-in-law, Bill, had been on home hospice with 24/7 care for about three months. He was frail (worn out from being a caregiver for his wife who had Alzheimer's), had inoperable blockages in his heart, had four small strokes that my sister-in-law witnessed and was frustrated with early dementia.
He was reaching for the cat when he fell.
The hospital determined that his pelvis was fractured in multiple locations and his femur (thigh bone) was broken. So Bill would be bed ridden the rest of his life. Sigh…he was in so much pain.
They were turning Bill every two hours to prevent bedsores. He could only be on his back and the side without the broken femur. He was a two-person transfer.
The fall that sent him to the hospital was a non-hospice related incident so it was covered by insurance. With no hope of improvement the hospital determined that he was once again comfort care. So according to the hospital, he was a hospice patent who needed to move out of the hospital or pay privately.
The only skilled nursing care facility in the area was not an option (bad reputation). There were no hospice facilities in the local area.
So the only two choices were:
Stay in the hospital for a cost of $48,000 a month.
Go home with two around-the-clock caregivers for a cost of $32,000 a month (because he was a two person transfer). The going home option would require my sister-in-law to stay home (she works full time) and manage the caregivers. The family would have to reimburse her normal salary.
My wonderful but exhausted sister-in-law found a temporary solution, which she badly needed. It is called hospice respite care, which includes a 5-day stay. Medicare Part A will pay for up to five days of respite care for a hospice patent who is otherwise cared for in the home. It gives a break to the caregiver. It can be provided in a hospice facility, nursing home or hospital. So we started the 5-day clock and didn't have to move Bill. He was so frail and moving him would have been horrible painful. He died about three days later, pain free, with family at his side.
He worked hard his whole life and the family agreed upfront to pay the $48,000 a month after the respite 5-day stay.
What if a senior does not have this kind of money or a home to sell?
My own 92 year old mother died in skilled nursing care on Medi-cal. It was in a caring compassionate 5-star rated skilled nursing community called Freedom Village in Lake Forest, CA. My mom was lucky. Many skilled nursing facilities that offer Medicaid assistance are not wonderful experiences.
Families need to research choices, advocate and make the best end of life decisions possible at the time. 
Hospice Note:  Our family's goal was for Bill to die at home.  My sister-in-law was fully prepared through hospice to make this happen.  Bill's devastating fall that required a two person transfer changed the situation.  Just shifting him in his hospital bed was horribly painful.  We could not imagine moving him in a ambulance at this point to any another location.
This situation is still very raw for me and it has taken me over a month to be able to write about this topic in my blog.
Your Senior Housing Options," has a simplistic title, but what's inside this new book can save a you months of research time.  Hear Diane Masson's interview of how her mother and in-law's faced the pivotal decision to plan ahead or wait until a crisis.  Learn the pitfalls from transitioning from your home to senior housing.  Understand what questions to ask, insider tips and dirty secrets revealed.  The decision to stay home requires caregivers.  Prevent elder abuse by determining if a home care agency is reputable, before they move into your home.  You are just not looking for today's needs, but for your future care.  Discover key differences between rental facilities vs Continuing Care Retirement Communities.  Do you have enough financial resources if you need to be in a higher level of care for an extended period of time?  For weekly tips join at: Www.Tips2Seniors.com 
Diane Masson has worked in senior housing for 17 years and is the regional marketing director for two debt-free Continuing Care Retirement Communities in Southern CA (Freedom Village in Lake Forest and The Village in Hemet).  Her first book "Senior Housing Marketing – How to Increase Your Occupancy and Stay Full," is being utilized by senior housing professionals across the country.  Both her first book and second book, "Your Senior Housing Options," have a 5-star rating on Amazon.com.