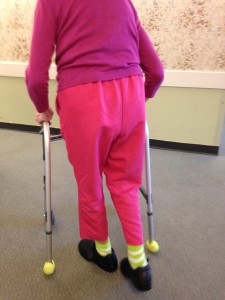 I asked the same question to four memory care communities that were licensed as assisted living. The responses might surprise you and help you determine where to place your own mom or dad.
What happens if my mother-in-law wakes up disoriented at 2:00 AM and gets up to find the bathroom? Then she falls…
Memory Care Community A – "When we find her, a med tech would evaluate her. If she hit her head or something major happened, then 911 is called. My husband asked about the med tech training. Is it like an emergency medical technician (EMT) with a minimum of 140 hours of medical training? She said, "No, it is like a CNA (Certified Nursing Assistant). There are specific criteria that they are trained on."
Does someone go with the dementia resident if they go out 911? No!
Diane's opinion: In my experience, no CNA has the medical expertise to make a judgment call on a fall. My mother's assisted living community always sent my mom out 911 from a fall in the middle of the night. It happened five times. It was highly traumatic for her. When someone arrives at the emergency room with dementia, it is scary and confusing. It would disorient her for days after each traumatic adventure.
Memory Care Community B – "We have certain guidelines to know when to call 911. In the past month we have had two seniors go out 911. Eighty percent of the time falls do not require 911. We would call the family to meet the senior at the hospital."
Does someone go with the dementia resident if they go out 911? No!
Diane's opinion: Some assisted living communities ship senior residents out by 911 because they don't want liability of a mistake. The pattern I am noticing is that if a community is licensed as an assisted living (board and care) and they do not have a 24-hour nurse, they get shipped out by 911 after a fall during the night.
Memory Care Community C – "If she got up at 2:00 AM, the motion sensors go off and a care manager goes into her room immediately. There are two care managers and a nurse. She will be assessed. If she is okay they will try to help her complete what she was trying to do initially, like going to the bathroom. If the fall is major, then the care manager will go to the hospital with them. If it is not major, she will be continually monitored every 15 minutes."
Does someone go with the dementia resident if they go out 911? Yes!
Diane's Opinion: This was the most impressive answer I received to my question. This community had a nurse on staff 24-7 and was priced at the high end of memory care communities. Bad news: My mother-in-law lived at this memory care community and fell. The answer they gave above does not match the reality of what happened. My mother-in-law was found on the floor beside her bed for an undetermined amount of time. Fortunately, she did not have to go out 911.
Memory Care Community D – "A motion sensor goes off, we assess her, and the nurse can be called. We are hesitant to send them out 911 unless absolutely necessary. We do send them out if they have had a head injury. Some places just call 911 but it is too hard on the families. A staff member will go with them to the emergency room."
Does someone go with the dementia resident if they go out 911? Yes!
Diane's Opinion: This memory care community had a nurse 14 hours a day. The longer they have a nurse on staff in a 24-hour period of time the more likely they have enough staffing to accompany a resident to the emergency room. Good news: My mother-in-law lived at this memory care community too. She fell and they did accompany her out 911 on several occasions. Thank you!
What Happens When a Senior Falls at 2:00 AM in Assisted Living?
This is a vital question that you need to ask in order to evaluate and choose an assisted living or memory care community for your loved one. Be proactive. Be an advocate. When someone has dementia it is very difficult for them if you pull them out of their normal routine, it can mess them up for days or weeks depending upon the severity of his or her dementia. Assisted living and memory care communities should not send out a dementia resident without accompaniment. My poor mother was always terrified and disoriented at the emergency room.
What has been your experience?
Your Senior Housing Options," has a simplistic title, but what's inside this new book can save a you months of research time.  Hear Diane Masson's interview of how her mother and in-law's faced the pivotal decision to plan ahead or wait until a crisis.  Learn the pitfalls from transitioning from your home to senior housing.  Understand what questions to ask, insider tips and dirty secrets revealed.  The decision to stay home requires caregivers.  Prevent elder abuse by determining if a home care agency is reputable, before they move into your home.  You are just not looking for today's needs, but for your future care.  Discover key differences between rental facilities vs Continuing Care Retirement Communities.  Do you have enough financial resources if you need to be in a higher level of care for an extended period of time?  For weekly tips join at: Www.Tips2Seniors.com 
Diane Masson has worked in senior housing for 17 years and is the regional marketing director for two debt-free Continuing Care Retirement Communities in Southern CA (Freedom Village in Lake Forest and The Village in Hemet).  Her first book "Senior Housing Marketing – How to Increase Your Occupancy and Stay Full," is being utilized by senior housing professionals across the country.  Both her first book and second book, "Your Senior Housing Options," have a 5-star rating on Amazon.com.