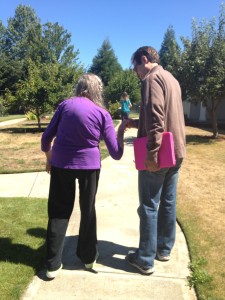 A senior can easily become overly dependent on a caregiver. A helpless 92-year-old senior woman, who is recovering from a surgery, can suddenly become isolated in her own home and becomes reliant on her new around-the-clock caregiver.
In memory care communities, seniors with dementia rely on the loving support from their caregivers or fellow residents.   Joyful smiles, from a dementia resident, may only be reserved for those who see them daily. Sometimes a wife learns that her husband in memory care has decided to marry his "friend." The "friend" might be a caregiver 50 years younger or another resident.
"Dear Abby," recently published a letter from a man in his late 60's. He wanted to marry a 28-year-old woman with three children. His question for "Dear Abby" was should he do it? She suggested a prenuptial agreement.
A frail senior man moved into a residential board and care home to recover from a hospitalization. His wife was optimistic about his ability to recover and return home. Her other wish was to have him improve enough to move into a Continuing Care Retirement Community with her. Unfortunately, the caregiver at the board and care home did everything for the husband. The wife begged for them to help her husband recuperate, by letting him dress himself, strengthen his legs by standing up, improve his endurance by walking around the home and etc. Instead the caregivers continued to make him 100% dependent on them, so he grew weaker and wheelchair bound. Now this couple (married for 60 years) will not be able to live together again.
Unlicensed home care workers (fly-by-night) can take over the finances of seniors while they sleep. This happened to one of my neighbors. She became a prisoner of her own home. The OC Register newspaper recently published an article about a senior who signed over her home to the caregiver who had lived with her for less than 90 days. She died with no children. The caregiver is still living in her home.
As humans we crave love and companionship. We need relationships in our lives. An isolated frail senior can easily become beholden to the one person who is sustaining their existence.
What have you seen or experienced?
Do you know a senior that is struggling?  Diane Masson's new book can help walk you or them through, "Your Senior Housing Options."  Diane has helped educate thousands of seniors in her career and shares weekly real life stories like this one.  Join her blog at Tips2Seniors.com or follow her on Facebook at Tips2Seniors.
Her first book "Senior Housing Marketing – How to Increase Your Occupancy and Stay Full," has helped new and experienced senior housing professionals (assisted living, memory care, skilled nursing care and Continuing Care Retirement Communities) around the world.  Both her first book and second book, "Your Senior Housing Options," have a 5-star rating on Amazon.com.