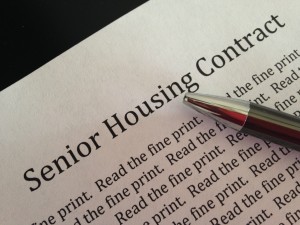 First, plan ahead and know that every senior has a 66% chance of needing assisted living or skilled nursing in the future.  
Second, do not rely on the verbal promises of senior housing sales people. Read the agreement for services or contract. If a senior does not understand it, they should ask a savvy friend or hire an attorney to help them. The majority of retirement counselors are honest and passionate about serving seniors. A few will say "anything" to get a senior to move in immediately. 
How do you know if a retirement community will really take care of you or not in your future? Here are some important questions to ask EVERY senior housing community BEFORE you move from your home: 
What happens when a senior needs a higher level of care like assisted living or skilled nursing?
Will the senior be asked to leave the retirement community?
Do they offer a higher level of care on the same campus? How much does that cost per month?
Does an outside company bring caregivers into the senior's apartment home to provide care? What is the hourly cost? What is that company's reputation?
What happens if a senior falls in the middle of the night?
Is there an emergency call system? Who responds to it? Are they medically trained?
What happens if a senior falls and he or she can't hit the emergency button?  Will they will be found in a timely fashion?
Is there a daily check in system?
What happens if a senior outlives their resources?
Will they kick you out? A senior provider kicked out a senior in Houston a week ago.
Is there a Good Samaritan Fund or Foundation to help a senior so that he or she won't get kicked out? Is there a limit of how many seniors can be utilizing the fund at any one time?
Or is there just a flat guarantee of care in writing that a senior will never be kicked out unless they divest their own funds on purpose by giving gifts to their children?
What else should a senior ask in order to make a good move?
These are just some of the intelligent questions that seniors should ask a senior housing provider. Other tips and advice can be found in Diane Masson's new book, "Your Senior Housing Options." She has recently been interviewed for TV, radio and newspaper features. Diane Masson has worked in all types of senior housing in her 17-year career. Her first book, "Senior Housing Marketing – How to Increase Your Occupancy and Stay Full," is being utilized by senior housing professionals around the world.