If enough of us keep walking and raising funds for Alzheimer's we will eventually find a cure for this detrimental disease that affects so many seniors including my mother-in-law.
Almost $110,000 was raised by 741 walkers at the Laguna Niguel Alzheimer's Walk on October 24, 2015. It was my first time raising awareness for Alzheimer's in California. I was part of team Freedom Village (a Continuing Care Retirement Community in Lake Forest) who came in seventh for fundraising.
My mom had dementia for nine years and died in April. I watched the disease rob her of the ability to communicate. Her last and final roommate in skilled nursing was a wonderful woman who is still battling Alzheimer's. I rode the bus to and from the Alzheimer's walk with her husband. He shared the struggle of trying to keep his wife independent as long as possible. He had alarms on the doors to wake him if she tried to wander off in the night. Eventually, those alarms where not enough to contain her at night. He had to find her a safer home.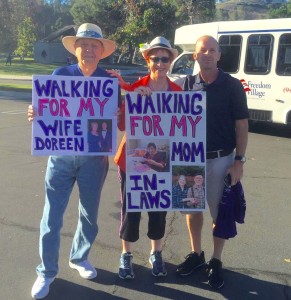 This brilliant husband took his wife one day a week to Silverado memory care to participate in activities. After several months he increased it to two times a week. She was so comfortable there that she would walk in and immediately be engaged with a staff person and walk to an activity. Then the decision was finally made to make it a permanent move. This time the community recommended that he not return for one week, so that his wife could adjust. She did adapt. In her three years at the community, she never asked once to go home.
At the walk, I learned that Alzheimer's affects more women than men. It was a beautiful experience to walk side-by-side with other people that have been touched by this mind-altering disease. People carried blue flowers if they had Alzheimer's. I carried a purple flower because my mom died from dementia. Other colors of flowers that people carried signified being a caregiver or financial supporter of Alzheimer's.
All the Freedom Village residents and staff had a blast. Imagine what we can do next year in group participation and fund raising. We will build on our momentum and team enthusiasm from our first annual walk for Alzheimer's.
How have you raised awareness for Alzheimer's? Let's keep this conversation going on social media to find a cure soon. 
#Walk2EndALZ #freedomvillagelakeforest #silverado
Diane Masson is a sought after author, blogger, speaker and regional marketing director.  She is very passionate about advocating for seniors on a nationwide basis and educating them about their future choices.  She just published a book to help seniors take the guess work out of selecting senior housing options or staying home.  It is called, "Your Senior Housing Options."  Her other book has been popular with senior housing professionals on a nationwide basis.  It is called, "Senior Housing Marketing – How to Increase Your Occupancy and Stay Full."  You can contact her through her website at tips2seniors.com.