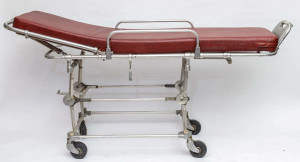 Have you felt like a number instead of a person at your HMO or heath provider? What happened? Frustration? What about vulnerable seniors who may or may not have an advocate at their doctor and hospital appointments? If sane adults can't advocate for themselves, how can a senior with dementia?
A few weeks ago, I went to my HMO (Kaiser) for a simple endoscopy procedure. It was a 5-minute procedure that required me to be under anesthesia in a twilight state. Anesthesia has not always been my friend. So I came armed with all my previous anesthesia experiences (the good and the bad). The doctor was informed of my concern through the nurse. The doctor acknowledged my concern (relief on my part) and said she would give me the same twilight anesthesia as a recent colonoscopy. I agreed to this, because it had been a good anesthesia experience for me.
Well, I awoke after the procedure to a nightmare of nausea and another bad anesthesia experience. A week later, my husband compared the anesthesia of the colonoscopy with the anesthesia of the endoscopy. Low and behold, they had given me 25 extra milligrams of Demerol for my endoscopy. That was not what I agreed to with my doctor. Why would they give me more than necessary? Was it because I was on a conveyor belt of medical procedures for that day? When I shared this experience with others, a couple of friends shared more stories. 
A coworker was given anesthesia during a colonoscopy and felt them begin the procedure. The medical team jumped when she said that she was still awake. Then they gave her so much anesthesia that it took her three weeks to recover.
Another friend was given 50 mg of a steroid, when it should have been a 10 mg dose. The doctor continued to overdose my friend for three months. My friend is still feeling the affects of being overmedicated. It was determined my friend never needed the steroid in the first place but they have to slowly wean him off the steroid. It takes months to do this. 
My own mother-in-law was given psychotropic medications in the emergency room. Amy had to lie on a gurney for three days because there was no room for her in the psych ward. She has still not recovered from what they did to her. Psychotropic medications do not mix well with dementia. 
My mom with dementia went to the hospital for abdominal pain. They wanted to do an exploratory surgery. We (my family) said no to the surgery because our mom has dementia. The doctor understood, because my mom could lose more of her memory going under anesthesia.  He did not convey our wishes (no exploratory surgery) to his team. When I went to visit my mom at lunchtime, she was not in her room. It turned out they were prepping her for surgery. My husband and I raced to that floor of the hospital to stop them. We got there in the nick of time. The doctor profusely apologized. Really?? The POA says no surgery and the HMO is going to do it anyway? Ridiculous! It turned out she had a urinary track infection and lived another five years.  
How do we protect ourselves? How can caregivers protect and advocate for seniors?
Diane Masson has worked in senior housing for 18 years and is the regional marketing director for two debt-free Continuing Care Retirement Communities in Southern CA (Freedom Village in Lake Forest and The Village in Hemet).  Her first book "Senior Housing Marketing – How to Increase Your Occupancy and Stay Full," is being utilized by senior housing professionals across the country. Her new book is an all-encompassing answer guide for seniors called, "Your Senior Housing Options," designed to help seniors navigate choices quickly. Learn more tips at: Tips2Seniors.com