Marketing 2 Seniors - About The Book
Senior Housing Marketing, How to Increase Your Occupancy & Stay Full | Author Diane Masson
"Senior Housing Marketing – How to Increase Your Occupancy and Stay Full" is being used nationally by senior living sales managers to motivate, coach and train their sales teams."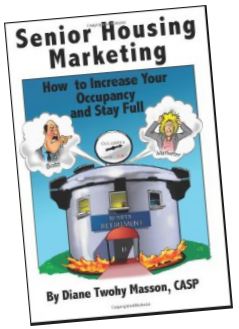 Many retirement communities use it for their weekly book review and have their team read it chapter by chapter to hone in on sales and closing techniques for senior housing.  It generates excellent discussions, insights for each sales person to improve and suggestions on how to strategically sell and market a retirement community.
"Senior Housing Marketing – How to Increase Your Occupancy and Stay Full" will be required reading at George Mason University, as part of the marketing curriculum.
It's challenging for senior citizens to sell their homes and move into retirement communities. But obviously they are doing it. Do you want them to relocate to your senior living community or your competitor's? This book has specific tips to help entrance fee models and rental communities increase their occupancy.  So Continuing Care Retirement Communities (CCRC's), Assisted Living, Independent Living and Skilled Care Nursing Communities can all benefit from the advice and insights from this senior housing book.
"The strategies within this book will also provide your new or current senior living salesperson insight into the senior mindset and how to strategically sell your retirement community."
You and your team may be experiencing some challenges in occupancy for the first time. Is it the economy? Your team? Or your strategy?
Senior housing administrators and marketing directors can determine if their marketing teams are performing optimally with every single marketing encounter. Find out if your sales and marketing team might be sabotaging potential sales. Discover new strategies to develop a strong and consistent occupancy marketing program.
This book will provide you with 12 keys to building occupancy at your retirement community. Sometimes you need to search for and identify a problem in order to solve it. If you keep doing what you are currently doing, you will end up with the same results. Or worse.
Beneficial for CEOs, CFOs, marketing staff and other key operational team members!

Every chapter is designed to help your financial performance!

Discover surprising reasons why occupancy could be down!

New sales and marketing people will be successful sooner!

How to increase occupancy to 100 percent for existing retirement communities! 

Ideas on how to market a developing senior housing community!

Tips in every chapter to start helping your occupancy increase today!