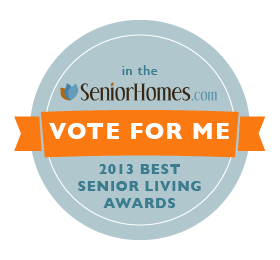 To All the Senior Living Professionals Who Follow My Blog
I appreciate all the great comments over the years and respectively ask for your vote in the  Seniorhomes.com – "Best Senior Living Awards!"  Diane Twohy Masson's Blog has been nominated as one of "2013 Best Industry Resources."
Click on the picture link below and vote twice by clicking once for Facebook and once for Google Plus.  I thank you advance!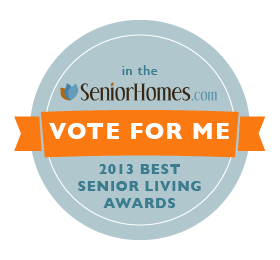 Join the Conversation on How to Market 2 Seniors
Please continue to comment on my blog posts to join the conversation and interact with other senior living professionals on what is currently being effective to increase occupancy on a nationwide basis.
Diane Twohy Masson is the author of "Senior Housing Marketing – How to Increase Your Occupancy and Stay Full," available for sale at Amazon.com.  Masson's book will be required reading at George Mason University in the Fall as part of the marketing curriculum.  She is currently consulting with Seniors For Living and two debt-free Continuing Care Retirement Communities in Southern California – Freedom Village in Lake Forest and The Village in Hemet, California. Connection and partnership opportunities: Email: diane@marketing2seniors.net