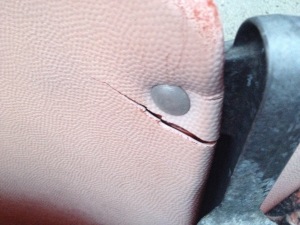 Is there a crack in your armor? Are you living on empty and have nothing left to give your family or job? Maybe you are a full-or part-time caregiver for an aging parent or a senior with dementia? Perhaps you are in a senior living sales slump?
You can't help anyone else or be productive at work unless you take care of yourself first. Look for joy in the moments. You may be going through a dire time. Maybe your parent or one of your senior patients is dying. Perhaps your daughter or son has some kind of health or school trauma. Possibly you just learned that someone scheduled to move into your retirement community has changed his or her mind. It may have been the one you needed to hit your sales goal this month. Sigh…they are going to stay home and wait for a crisis. You start asking why over and over.
Don't become jaded and harden yourself with a giant wall to protect your emotions. It's mentally checking out and called un-engagement. Your family, senior prospective residents and coworkers can feel your wall.
If you work in senior living sales, we can't help every senior. Only the ones who choose to plan ahead. Do you feel overwhelmed with what's happening in your personal life? Is your lack of sales getting you down? Well it's time to go find your rainbow. Are you wondering how to get started?  Feed your mind with positive thoughts. Schedule time to heal yourself!
10 Recharging Tips:
Go to a live concert, stand in your shower or drive down the road singing at the top of your lungs.
Sit by the ocean and wiggle your toes in the sand.
Fly down the road with the wind in your face on a bike or motorcycle.
Hold a baby or play with small children.
Take a Saturday to read a book.
Hang out with your friends.
Spend time in nature – amongst the trees, watching the river go by or gazing at a lake.
Soak in a bubble bath surrounded by candles.
Go to a sports game in person. Cheer on your favorite team.
Build a fire and make s'mores!
Recharge today, so you can change your world one senior or family member at a time.
Let your family and job see your heart when you speak. They will be moved and feel your sincerity. Seniors can tell if you want what's best for them. Suddenly seniors who were "not ready yet" become ready to move into your retirement community. Conviction in your voice can move a mountain.
Shake off the negative. Don't focus on the junk. I created a spiritual foundation of faith that can sustain me when I have a tough day. You can too. We all have moments of weakness. Believe in your ability to change a senior's or family member's life today.
In every encounter with family or at work, we either give life or drain it.
Do you give life to those around you at work and at home? Are you so worn out from working that you have nothing left to give your family? It's your choice to be a giver or taker to those around you. Have you taken time to recharge yourself recently?
Exciting news!  Diane's CCRC teams are breaking records and hitting aggressive occupancy goals this quarter.  They all participate in a weekly book review led by Diane.  The book review helps the teams stay on track, improve sales skills and build team camaraderie.  They just completed learning the 12 keys in Senior Housing Marketing: How to Increase Your Occupancy and Stay Full for senior living professionals.  It was written by Diane Twohy Masson.  
Credit to Gallop: Only 30.5% of employees are engaged at work.
Everyone of us knows at least one senior that needs to move now.  Here is a resource to help you or them make an informed decision.  Diane Twohy Masson's new guide book for seniors, "Your Senior Housing Options,"  is available on Amazon.com with a 5-star rating.  It reveals a proactive approach to navigating the complex maze of senior housing options. It will help you understand the costs and consequences of planning ahead or waiting too long.  Learn firsthand tips from someone who is currently advocating for two aging parents.
Among the thousands of seniors she and her teams have assisted in finding the right senior living community, the most difficult case has been helping her own parent. Masson spent two years exploring senior housing options with her mother before finding the ideal Continuing Care Retirement Community for her. After eight years in this independent living setting, she helped her mother transition into an assisted living community. Seven years later, even as a senior housing expert, Masson struggled with the decision to move her mother into a skilled nursing community.
More related articles by Diane can be found at  Tips2Seniors.com or like Tips 2 Seniors on Facebook.