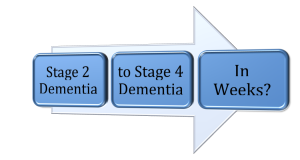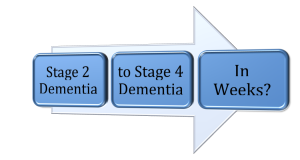 Professionals have told me that a trauma could have caused Amy's dementia (my favorite mother-in-law) to escalate rapidly. Is this true? Can all the dementia professionals and family members weigh in with their experiences?
My mother-in-law's dementia was progressing slowly like my mom's vascular dementia. There are four stages of memory loss and Amy was in stage 2, before the trauma. She repeated herself a lot, needed cueing for personal hygiene, medication management and had little desire to leave the home. Amy talked about not being able to remember stuff, but she could still read the paper, dress, bathe, toilet and feed herself.
Then Bill, my favorite father-in-law and Amy's 24-7 caretaker, had a heart attack and went to the hospital. Amy could not understand where her rock and husband of 65 years had gone. She ended up having a psychotic break and eloping (The police had to find her and bring her back home.). A whole series of dramas happened and she hit a nurse. Then she too was hospitalized and put on psychotropic medications. Amy was in the hospital for three weeks in the psych ward.
By the time she got out of the hospital, the Amy I had seen months earlier was gone. The first time my husband and I saw her after the hospitalization (we live three states away) was so sad. The vivacious and sarcastic Amy was gone. It was like seeing a shell of her former self. Her lip trembled, her arm shook and she was so sleepy from the Haldol drugs. We immediately got the psychotropic medication reduced by half. It took us another three months to get her completely off the Haldol because we are not Amy's Power of Attorney.
Amy was suddenly in stage 4 dementia. She needs help with absolutely everything and is not able to communicate her thoughts or needs. Hospice has been discussed in care plan meetings.
Has anyone else seen such a rapid decline with a family member or resident with dementia? Was it losing her husband, the psychotropic medications or both that caused Amy's rapid deterioration? I believe that if my in-laws had planned ahead and moved into a Continuing Care Retirement Community (CCRC) that staff and residents would have supported Amy when her husband was first hospitalized. The CCRC would have rallied around her, helped her transition to the care level she needed and her world wouldn't have changed so dramatically (she would have been dining daily with resident friends instead of being isolated in her own home).
What do you think?
"Your Senior Housing Options," has a simplistic title, but what's inside this new book can save a you months of research time.  Hear Diane Masson's interview of how her mother and in-law's faced the pivotal decision to plan ahead or wait until a crisis.  Learn the pitfalls from transitioning from your home to senior housing.  Understand what questions to ask, insider tips and dirty secrets revealed.  The decision to stay home requires caregivers.  Prevent elder abuse by determining if a home care agency is reputable, before they move into your home.  You are just not looking for today's needs, but for your future care.  Discover key differences between rental facilities vs Continuing Care Retirement Communities.  Do you have enough financial resources if you need to be in a higher level of care for an extended period of time?  For weekly tips join at: Www.Tips2Seniors.com 
Diane Masson has worked in senior housing for 17 years and is the regional marketing director for two debt-free Continuing Care Retirement Communities in Southern CA (Freedom Village in Lake Forest and The Village in Hemet).  Her first book "Senior Housing Marketing – How to Increase Your Occupancy and Stay Full," is being utilized by senior housing professionals across the country.  Both her first book and second book, "Your Senior Housing Options," have a 5-star rating on Amazon.com.