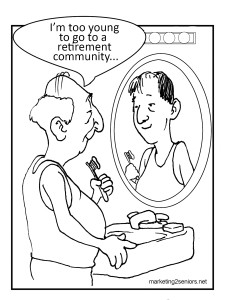 Every single one of us knows a senior who is struggling in their home. Some seniors silently suffer and others have a whole network of support from family and friends.
Daughters may call their mom once a day to inquire if her senior parent is okay OR no answer could mean they fell again and need help.
Result: Senior falls often lead to fractured hips, 911 calls, skilled nursing care with physically therapy and needing 24/7 care.
A son may set his senior parent up with medications in a pillbox and then call two or three times a day to make sure his parent has taken them.
Result: This can be effective until the senior says, "What are these pills for? I don't want to take them." Most family members are not there in person twice a day to make sure the senior ingests the pills.
Kind neighbors may make an extra plate of dinner every night and take it to their senior neighbor.
Result: Neighbors get frustrated and burned out, spending every single night away from their own family for one year or more. This type of support can't go on and on.
Daughters may spend every other Saturday cleaning mom's house, grocery shopping and setting up her senior parent to survive for another two weeks.
Result: Even if the daughter lives two hours away, this type of help eventually turns into every Saturday. If the daughter works full time, it can never be daily help, then what?
What is the answer to a senior struggling to manage in their home?
Result: It's time to talk turkey with a senior.
There are five typical results in having "The Talk" with a senior:
Denial: "I am just fine living in my own home.  I am not ready yet."
Shutting down: "I don't want to discuss this."
Anger: "Why are you questioning my ability to be independent? Leave me alone."
Confusion: "Don't you want to come see me everyday? I don't understand."
Acceptance: "I understand that I have become a burden. Maybe it's time to look at what my senior housing options could be. I am tired of being lonely. Will you help me look?"
In my 17-year senior housing career, my teams and I have helped thousands of seniors improve the quality of their life by making a planned move into an independent living, assisted living or Continuing Care Retirement Community. No one ever chooses memory care or skilled nursing, but those are options for many seniors (like my own in-laws) who waited too long and ended up in a health care crisis. Both my in-laws were hospitalized simultaneously in different hospitals and both their doctor's told them they needed 24/7 care and could not return home. There was so much unnecessary suffering in my family and I don't wish it on anyone. Such as my mother-in-law with dementia being given psychotropic medications (they don't mix well). She has never been the same. Maybe my experiences can save you from a senior health care crisis?
Next week my blog will feature: 7 Tips to have "The Talk" with a Senior.
If this article struck a cord with you, please share it on social media to help others. If you have a friend or neighbor going through a struggle with a senior, let them know about next week's blog.
Give the gift of knowledge: "Your Senior Housing Options" is an easy read with illustrations. It walks seniors and their adult children through the costs and pitfalls of navigating senior housing and includes the  chapter on the "7 Deadly Sins of Searching for Senior Housing Options."
News Flash: Diane Masson's new interview on Generation Bold Radio will broadcast on Sunday, December 6th on the BizTalkRadio Network syndicated to 33 stations across the country.  
Diane Masson is a senior living expert who has authored two 5-star rated books sold through Amazon. Her new book is an all-encompassing answer guide for seniors called, "Your Senior Housing Options," designed to help seniors navigate choices quickly. The second book was written for senior living professionals called, Senior Housing Marketing – How To Increase Your Occupancy and Stay Full. Reach out to her through her website: Tips2Seniors.com and read the weekly blog.