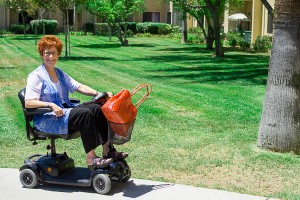 A broken toe and a scheduled photo shoot at a retirement community does not go well together.  As I was hobbling around, trying to tough it out, the pain intensified.  I needed a "plan b".  It was my lucky day, because the wonderful resident I called for a favor had a second motorized wheelchair.  So he let me borrow his electric cart.
Electric carts are fun to drive like a speed demon down the hall, but the reality of using one can quickly set in.  I had to navigate a photo shoot on several different floors in tight spaces.  Some of the photo scenes were in the dining room and the arms of the electric cart seemed to reach out and grab tablecloths.  Then the neatly placed silverware would become disheveled.  At each mishap, I took the time to restore the silverware to its original placement.  It was lucky that I could stand on one foot to accomplish this.
When I pulled the cart up to my office, off the lobby, it was so much easier to leave it by the door so I could limp in.  Then my mind starting remembering all the times I had complained about residents leaving their carts in the lobby when they went on trips.  If you can't walk, how can you park your cart in an inconspicuous location and hobble to the bus?  It's impossible.
Elevators were an experience too.  I am able bodied, but residents using electric carts are not as flexible.   I had to really stretch to reach the elevator button.  When I rolled onto the elevator, I had to twist back to hit the second floor button.  I couldn't imagine an arthritic resident being able to manage this.  Then when the doors opened on my floor, I had to drive backwards and turn the cart around.  This required craning my neck around so I would not hit a wall or a resident.  Later I learned that some residents use a walking cane to push buttons for the elevator.
Yes, I bumped into a few walls and doorways.  But I didn't create one of those famous black streaks on the wall that the maintenance team constantly paints.  It's not hard for me to imagine how those black marks appear daily.  Particularly, if two residents with carts are passing each other in the hall and each is trying to give the other a wide berth.
Watching people's reactions was really interesting too.  Some said, "How's driving?" or "Do you have a license?" or "What happened?" or  "Having fun?"  The best part was talking with residents who use an electric cart daily.  They loved watching me roll in the cart and understanding what it was like for them.
You don't have to have a broken toe like me to try an electric cart for a day.  What if all your senior living department heads had to accomplish all their work while using an electric cart for a day?  Who's first?  Your residents will love you.
Your tips could help others improve on a national basis, so please share by commenting on this blog.  If this weekly blog can help your sales and occupancy – why not sign up today so you don't miss a single one? 
Diane Twohy Masson writes this weekly blog to support and engage with other senior housing professionals.  Her first book is Senior Housing Marketing – How To Increase Your Occupancy and Stay Full.  Many sales teams and organizations have used the 12 keys contained in this book for their weekly book review.  Diane is working on her second book to help seniors select their senior housing options.
© Marketing 2 Seniors| Diane Twohy Masson 2014 All Rights Reserved. No part of this blog post may be reproduced, copied, modified or adapted, without the prior written consent of the author, unless otherwise indicated for stand-alone materials. You may share this website and or it's content by any of the following means: 1. Using any of the share icons at the bottom of each page. 2. Providing a back-link or the URL of the content you wish to disseminate. 3. You may quote extracts from the website with attribution to Diane Masson CASP and link http://www.marketing2seniors.net For any other mode of sharing, please contact the author Diane Masson.