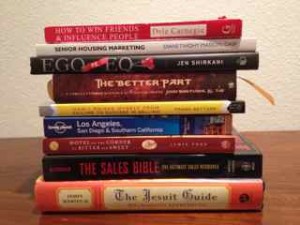 Success in sales coming from a good attitude.  Negative news sells newspapers and TV commercials.  News commentators get paid to glamorize fear and a collapsing world.  Overcome this fear by turning off the news and feeding your brain with positive thoughts and energy.
What book(s) are you currently reading?
How often do you read?
Is there a certain time of day that works best for you?
Do you read one chapter a day or multiple chapters?
It seems like there are readers and nonreaders in the world.  Do you have a friend who is always starting or finishing a great book?  Hint: I bet they are more positive than your friends who don't read regularly.
These are my current go to books for working in senior living:
"How to Win Friends and Influence People," by Dale Carnegie.  I have read this classic about five times, just finished it with one sales team and currently on part two, chapter one with another team.  This is one of the greatest books ever.
"Live Your Life Like It Matters," by Scott V. Black.  This book has sparked ideas for me to create team sales meetings and most recently an entire marketing retreat.  I just finished this book and the last two chapters are due for a team review in the next two weeks.
"The Sales Bible," by Jeffrey Gitomer.  I have read this great book twice, just selected it for our book review at two Continuing Care Retirement Communities and chapter one is due next week.
"How I Raised Myself From Failure to Success Through Selling," by Frank Bettger. Another classic that I have read several times, currently assigned this to a successful senior living sales person to pull them out of rut and chapter one is due next week.
"Ego vs EQ," by Jen Shirkani.   I am really excited about this new book to improve myself and grow, just finished chapter one last night.
"Senior Housing Marketing – How to Increase Your Occupancy and Stay Full," By Diane Masson (me).  I just used excerpts from "Chapter 10 – Internal Customers – No need to worry about them, right?  Wrong!" for a concierge/receptionist training.  It is the best book for training new sales team members and can help all communities increase their occupancy.
Current personal books:
"The Better Part, A Christ-Centered Resource for Personal Prayer," by John Bartunek, LC, THD.  This is my daily bible reading with outstanding reflections.
"Los Angeles, San Diego and Southern California," by Lonely Planet.  This is a resource I use to travel through Southern California, since I have lived here less than two years.  We are going to L.A. tomorrow for a Lakers game and wanted to learn what else that my husband and I could explore.
"The Jesuit Guide to Almost Everything – A Spirituality for Real Life," by James Martin, SJ.  A friend gave me this book for Christmas and I have been slowly absorbing the recommendations for simplifying my life for the past three months.  This book has really helped me.
"Hotel on the Corner of Bitter and Sweet," by Jamie Ford.  Another friend let me borrow this book and I want to start it this weekend.
Typically I read my daily bible reflection daily, several chapters a week from my other personal books and one chapter a week from each of my books for work.
Would you be willing to share your current reading list or favorite books?
Please share your successes, failures or comment below to join the conversation and interact with other senior living professionals on what is currently being effective to increase occupancy on a nationwide basis.
Diane Twohy Masson is the author of "Senior Housing Marketing – How to Increase Your Occupancy and Stay Full," available at Amazon.com with a 5-star rating.  The book is required reading at George Mason University as a part of its marketing curriculum.  Within this book, the author developed a sales & marketing method with 12 keys to help senior living providers increase their occupancy.   Masson developed this expertise as a marketing consultant, sought-after blogger for senior housing and a regional marketing director of continuing care retirement communities in several markets.  She has also been a corporate director of sales and a mystery shopper for independent living, assisted living, memory care and skilled care nursing communities in multiple states.  Currently, Masson is setting move-in records as the regional marketing director of two debt-free Continuing Care Retirement Communities in Southern California – Freedom Village in Lake Forest and The Village in Hemet, California.  Interestingly, this career started when she was looking for a place for her own mom and helped her loved one transition through three levels of care.
© Marketing 2 Seniors| Diane Twohy Masson 2013 All Rights Reserved. No part of this blog post may be reproduced, copied, modified or adapted, without the prior written consent of the author, unless otherwise indicated for stand-alone materials. You may share this website and or it's content by any of the following means: 1. Using any of the share icons at the bottom of each page. 2. Providing a back-link or the URL of the content you wish to disseminate. 3. You may quote extracts from the website with attribution to Diane Masson CASP and link http://www.marketing2seniors.net For any other mode of sharing, please contact the author Diane Masson.