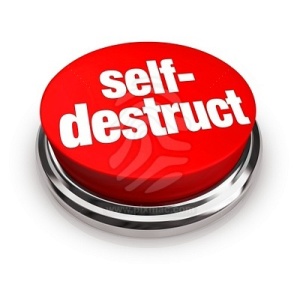 Don't we all know a friend or parent who fits the description of self-destructive, stubborn, selfish or stupid? What do you do? Love them or fight them? How can you help someone who refuses to believe there is a problem? You can't make a parent be compliant with his or her doctor and you can't force a senior to move into a higher level of care.
As seniors age, medical problems tend to increase. All sorts of progressive diseases can ravage a senior's body and create havoc mentally and physically.
Uncooperative Parent?
My friend Grace's dad has been defiant about his dialysis treatments for seven years. Dialysis is a medical procedure for people whose kidneys are failing. The treatment helps clean your blood and remove toxins from the body. If you refuse treatment you die a painful death.
Richard is supposed to have dialysis three times per week. His pattern of behavior is to refuse treatment till he is in crisis mode and has to be hospitalized. Then he feels good, skips a treatment, toxins build in his body, and he goes back into crisis mode again.
When Richard does not show up for his dialysis, they call his adult daughter who lives 45 minutes away. She used to drop everything including walking away from work to plead with her dad to accept treatment. Sometimes her waterworks of tears would be effective and other times he still refused treatment. Crisis calls every week for seven years is a long time. Anyone of us would be burned out. The police have called my friend and threatened her with elder abuse if she does not get her dad to comply with treatment. Seriously? This man has a right to refuse treatment, even with dementia. How can his daughter be held responsible for his lack of treatment?
The dad has refused to sign a Power of Attorney (POA).
The dad has refused to go in the ambulance when it has arrived on numerous occasions to take him to dialysis treatment.
The dad refused to move to assisted living on the doctor's recommendation.
The dad refused to move to skilled nursing care on the doctor's recommendation.
The doctor called adult protective services and they have done nothing.
The daughter asked adult protective services to make her the conservator of her dad and they said no.
This scenario has been going on for seven long years! My heart goes out to my friend. Do you think her dad is self-destructive, stubborn, selfish or stupid? Do you have any thoughts or advice?
Diane Masson's new guide book for seniors, "Your Senior Housing Options," will be will be coming soon to Amazon.com. If you sign up for my weekly newsletter on the right side of this blog, you will be notified when my new book becomes available. Check out my new website: Tips2Seniors.com or please follow me on Facebook.
"Your Senior Housing Options," is dedicated to my mother, whose stories are peppered throughout. Being her advocate for over ten years has taught me to be a better person. My mom has dementia, but I am truly blessed that she still calls me by name. Her smile and joy inspires me to see the positive side of life. It makes me want to reach out and help seniors and their families make better choices today so they can have more secure long-term care plans tomorrow.