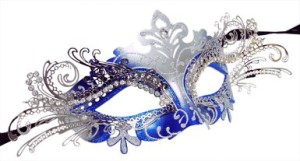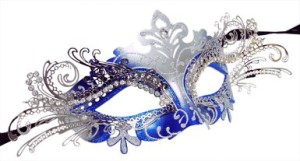 Almost everyone wears a mask out in public. It can be exhausting to hide behind a fake exterior and pretend we have it all together. I meet seniors and sales people everyday that seemed poised and polished to the world and yet they are terrified inside.
Many seniors and sales people have lost the ability to be real and authentic. They have worked hard to create the illusion that everything is fine, because they fear showing their vulnerability.  
Seniors walk into retirement communities everyday announcing that he or she is fine and "not ready yet" to make a move to senior housing. If you could pull off the mask, you might see a frightened senior who knows their memory is slipping, had a recent fender bender in the car or is just extremely lonely. That's why they are exploring senior housing options.
Is this you?
Sale people may be dealing with an angry teenage daughter, a new baby, or ailing parents. They have to leave their breaking heart in the car and arrive for work with a mask of happiness. 
Is this you?
Here are the three most common masks:
The I'm Fine Mask: You smile and say that everything is fine when your heart is breaking. It appears that you have it all, but you may feel lost inside. It is safer to hide, because people expect it.
The Performance Mask: You have the "to do" list. You keep up a frantic pace.   If you stop performing then you are not worth anything at all. You want to matter and count.
The "I don't care" Mask: You don't bother with your looks. You do not seem to care. You are desperate to not be seen. You are certain that others will reject you.
Masks can be exhausting.  
I know because I am usually wearing the performance mask. On top of working full time as a regional marketing director at two Continuing Care Retirement Communities:
My personality has always been driven. I have always increased the occupancy of any senior living community I was working with. I love achieving goals. It's also important to create balance in my life so I don't burn out. I just started a women's bible study called, "Keeping the Balance." It is already changing my life and helping me recognize the real me, so I can be authentic with you. Today, I had some me time. What a treat. Tonight I will be dancing with my husband at Oktoberfest.
Balance in life is important. The opposite of wearing a mask can be seniors and sales people who over share. They want to dump all their problems on you and it may not be at an appropriate time.    
When my mom was in in later stages of dementia, her mask of pretending to be okay was gone. She just said whatever was on her mind.
How about you? What's your mask? Have you found your balance?
Diane Masson has 19 years experience, both personally and professionally in senior housing.  She is an author of two books with 5-star ratings, a weekly blogger and a regional marketing director of two Continuing Care Retirement Communities.  Follow her newsletter on Tips2Seniors.com or Tips2Seniors on Facebook.