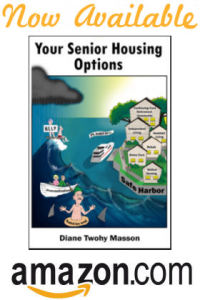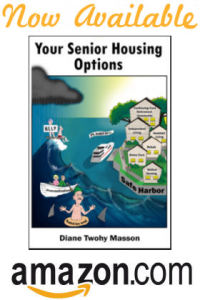 It is important that seniors make a plan while they are healthy and well OR they will find themselves in a situation where family members have to "put them someplace." My in-laws waited for a health care crisis that you can read about HERE and the adult children were forced to "put them" in more supportive environments. The doctor told my father-in-law that he needed 24/7 assisted living care and another doctor required that my mother-in-law with Alzheimer's move into a secured memory care simultaneously. 
How do you find a good retirement community, assisted living, memory care or skilled nursing care? "Your Senior Housing Options," gives tips and advice on exactly what questions a senior needs to ask in order to determine if a senior living provider is great or mediocre.
Almost every week I speak to 50 to 75 seniors about their future health care and housing options. Two months ago, I created a new presentation based on my book, "Your Senior Housing Options." What an impact it has made. Seniors share how grateful they are for clear and concise information that they can apply immediately in making a decision for themselves. This is my passion and I want to help seniors make a wise choice.
The book articulates the costs and consequences of the various senior living options. I share the ramifications of waiting too long and how a senior can save money and stress by planning ahead.
Seniors can take away valuable tips they can utilize immediately as they begin to research and explore long-term health choices. Most seniors have no knowledge of how to select a reputable home care company or retirement community. It's important to know states vary on requirements for caregiver training, drug screening and finger printing.   Due diligence of care choices can prevent elder abuse!
Ultimately, a senior can continue to live by a river in Egypt called denial or they can make proactive decisions and create a plan for their future health care. It is scary for seniors to contemplate running out of resources in a higher level of care, but it can happen (my own mom ran out of money living in assisted living for seven years). Hopefully, seniors choose a plan that has a safety net, in case they run out of money.
Current presentations based on this new book are helping seniors make proactive decisions for their future health care needs. Hopefully, this is the beginning of a movement to educate seniors.
Diane Masson has worked in senior housing for 17 years and is the regional marketing director for two debt-free Continuing Care Retirement Communities in Southern CA (Freedom Village in Lake Forest and The Village in Hemet).  Her first book "Senior Housing Marketing – How to Increase Your Occupancy and Stay Full," is being utilized by senior housing professionals across the country.  Both her first book and second book, "Your Senior Housing Options," have a 5-star rating on Amazon.com.
For weekly tips and advice go to www.Tips2Seniors.com and learn more from author and senior housing expert Diane Twohy Masson.