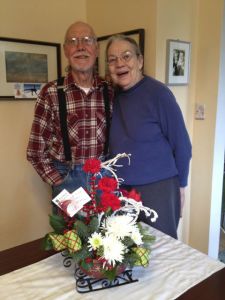 Aging parent's decisions can drive us crazy or make us sick. When a parent with dementia stubbornly chooses to stay home, it can be heart breaking for the adult children. Watching a senior's vitality fade is hard enough. But for an adult child to witness a parent's poor hygiene, lack of nutrition by eating frozen dinners (not fresh food) and to see the absence of good judgment is tough and sad.
Some of us never get sick. Yet here I am, literally worried sick about my in-laws. A month ago my father-in-law, Bill, had a heart attack. My mother-in-law, Amy, with dementia was left alone for the majority of three days and nights as the local children rallied around the dad at the hospital. They did make sure she had food and medications. My husband and I hired a geriatric nurse to evaluate and help Amy. The nurse was to be our eyes and ears, since we live 1000 miles away. By the time the nurse intervened, Amy had become psychotic and had trouble recognizing her own children.
To make a long story short – my father-in-law never wanted to move to a retirement community or assisted living. He actually told my husband and I (working in the senior living business) that he understood that he would be waiting for a health crisis.
Well a crisis is one parent in the hospital and we had two. Over the last month, Bill improved enough to graduate from the hospital, to rehabilitating in skilled nursing care, to living permanently with his adult daughter in her home. He was told by professionals that he could no longer be Amy's caregiver (he had been her caregiver for five years) and would need help for himself 24-hours a day. Pneumonia and a fall preceded the heart attack and now he has trouble catching his breath if he overexerts himself in any way and can't remember to take his own medications because of dementia.
Let me fast forward on Amy's simultaneous crisis. Amy's Alzheimer's prevented her from grasping that her husband of 65 years was in the hospital. She eloped (I think she walked away to search for her missing husband and ultimately the police found her) and hit a nurse in her confusion and anxious state. The police took her to the hospital and she resided in the emergency room for two days because they did not have a bed in the locked area. This is the part I don't even want to imagine because I know they must have had to sedate her completely because she was an elopement risk.
A week later, both the skilled nursing community where Bill was getting rehab and the hospital where Amy resided wanted to discharge them simultaneously. The local children said that was impossible and they had to be discharged one at a time. So Bill was released first. Our goal was to have Amy placed in a quality secured memory care by the end of the next week. That week ended two days ago on Friday. Now it's a holiday weekend and she is stuck in a locked psych ward in a hospital. Amy could have been discharged on Friday afternoon. The injustice of it all has made me sick. Next week I will share why Amy was not released – you will be shocked and disgusted.
Diane Masson's new guide book for seniors, "Your Senior Housing Options," will be will be coming soon to Amazon.com. If you sign up for my weekly newsletter on the right side of this blog, you will be notified when my new book becomes available. Check out my new website: Tips2Seniors.com or please follow me on Facebook.
Diane Twohy Masson is the author of "Senior Housing Marketing – How to Increase Your Occupancy and Stay Full," available at Amazon.com with a 5-star rating.  The book is required reading at George Mason University as a part of its marketing curriculum.  Within this book, the author developed a sales & marketing method with 12 keys to help senior living providers increase their occupancy.   Masson developed this expertise as a marketing consultant, sought-after blogger for senior housing and a regional marketing director of continuing care retirement communities in several markets.  She has also been a corporate director of sales and a mystery shopper for independent living, assisted living, memory care and skilled care nursing communities in multiple states.  Currently, Masson is setting move-in records as the regional marketing director of two debt-free Continuing Care Retirement Communities in Southern California – Freedom Village in Lake Forest and The Village in Hemet, California.  Interestingly, this career started when she was looking for a place for her own mom and helped her loved one transition through three levels of care.
© Marketing 2 Seniors| Diane Twohy Masson 2015 All Rights Reserved. No part of this blog post may be reproduced, copied, modified or adapted, without the prior written consent of the author, unless otherwise indicated for stand-alone materials. You may share this website and or it's content by any of the following means: 1. Using any of the share icons at the bottom of each page. 2. Providing a back-link or the URL of the content you wish to disseminate. 3. You may quote extracts from the website with attribution to Diane Masson CASP and link http://www.marketing2seniors.net For any other mode of sharing, please contact the author Diane Masson.