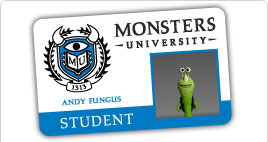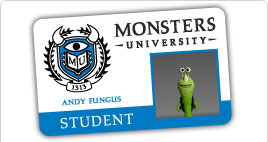 Disney's "Monsters University" movie really struck a cord with me.
The "Monsters University" movie was about a team who perseveres through a "Scary Competition" together.  As a newly formed team, they didn't believe in each other.  As the experience grew they started to believe.   When Mike (the small green one-eyed monster with the heart of a lion) took the the monsters on a field trip, the entire team saw that each of them could be a scary winner individually and really trusted each other.  The scary team became invested in supporting one another and helping weak players grow stronger.
Even the mean lady who was the dean of "Monsters University" was surprised by the perseverance of Mike and Sulley (the big furry blue and purple monster).  NO ONE believed in this team of misfits.  Yet they proved to go above and beyond what anyone in the school had ever done before.  When the dean locked Mike and Sully in the human world, Mike figured out a way to get out with the help of Sulley TRUSTING Mike.  Mike was the brain and Sulley was the brawn.  Individually they would not have made it, as a team of two who TRUSTED each other, they were successful.
When senior living sales people are new – they don't know whom to trust on the operations team.  Will their co-worker have his or her back or throw them under the bus?  It's important to have a good on-boarding system that creates experiences to build team trust.
Here are several ideas to help develop trust on your senior living team:
If several of your key staff interview the candidate, they will believe in the newbie's talents from the initial interview meeting.  Their belief needs to be shared with the rest of the long-term leadership.
Ask each department head to welcome the new employee to your senior living team and share their role and how it interacts with the newbie.
Depending on the newbie's position create a plan for them to understand their role within your organization's mission.
Create mentoring moments between the new employee and several long-term staff.
Have a staff person with longevity introduce the new person to residents, possibly at the resident council meeting.
If you have a click of core leaders, ask them to welcome the newbie at lunch.
Develop a team experience where the newbie can learn AND share their own talents – maybe it's an event for the residents, a weekly book review, special project or morning stand up meeting.
What are you doing to build trust between a newbie and your existing senior living team?  What on-boarding best practices have worked for you?
Please share your success, failures or comment to join the conversation and interact with other senior living professionals on what is currently being effective to increase occupancy on a nationwide basis.
Diane Twohy Masson is the best-selling author of "Senior Housing Marketing – How to Increase Your Occupancy and Stay Full," available at Amazon.com with a 5-star rating.  The book is required reading at George Mason University as a part of its marketing curriculum.  Within this book, the author developed a sales & marketing method with 12 keys to help senior living providers increase their occupancy.   Masson developed this expertise as a marketing consultant, sought-after blogger for senior housing and a regional marketing director of continuing care retirement communities in several markets.  She has also been a corporate director of sales and a mystery shopper for independent living, assisted living, memory care and skilled care nursing communities in multiple states.  Most recently Masson was recruited to consult for two debt-free Continuing Care Retirement Communities in Southern California – Freedom Village in Lake Forest and The Village in Hemet, California.  Interestingly, this career started when she was looking for a place for her own mom and helped her loved one transition through three levels of care.