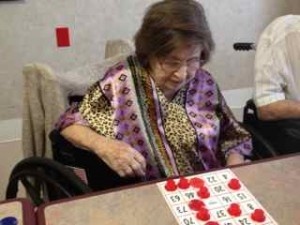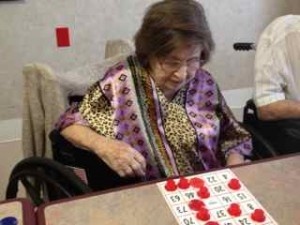 I can't stop thinking about my surprise visit with my mom yesterday.  I arrived Sunday afternoon about 2:30 PM to Freedom Village Healthcare Center in California.  She was not in her usual places – where was she?  A caregiver said, "Oh, your mom is down in the activity room."  I said to my husband Chris, "We really need to pay more attention to the activity calendar, so we don't visit during those times.  I want her to enjoy all the social times and I can visit her when nothing else is going on."
We happened upon the activity calendar and all the activities were done for the day.  So what was she doing?  As we turned the corner, we saw my mom's beaming face.  She was playing bingo.  The caregiver smiled at me and said, "Oh, do you want to take your mom?"  I said, "Absolutely not, let her enjoy herself."  It was great to see pure joy – when she said, "Bingo!"
What was interesting to me was her interacting with the other residents and helping them play too.  My mom has severe vascular dementia.  When she speaks it is about 70% non-reality.  What a great activity to really stimulate her brain.  The caregiver said to me, "We decided to put on a bingo game for them, they like it and it gives them something to do."
Well, bless those two caregivers who created an unscheduled resident activity to help with the resident's quality of life.  This was a huge "Wow" for me and I can't stop thinking about how happy my mom was.  For those of you who follow my blog, I moved my mom 1000 miles to be near me about three months ago.  This was the best day of my mom's life here in California.
After each resident said bingo, the caregiver would call the resident by name and say, "You won a cookie."  No cookies appeared.  I thought to myself, well the residents have dementia – they won't remember the cookie promise.  To my utter surprise – cookies appeared at the end of the last game.  One cookie for each resident.  When the caregiver was handing out the last cookie, the resident said, "I don't get one – I didn't win."  The caregiver said, "That's okay, you are a winner for even being here."  There are tears in my eyes writing this, because these staff went above and beyond!
As the afternoon progressed – my mom continued being animated and talking nonstop.  It did not matter that 60% was non-reality.  She was having a great time and I loved spending quality time with her.  Some people think people with dementia have nothing to offer in life, well, they are 100% wrong.
Please share your success, failures or comment below to join the conversation and interact with other senior living professionals on what is currently being effective to increase occupancy on a nationwide basis.
Diane Twohy Masson is the author of "Senior Housing Marketing – How to Increase Your Occupancy and Stay Full," available at Amazon.com with a 5-star rating.  The book is required reading at George Mason University as a part of its marketing curriculum.  Within this book, the author developed a sales & marketing method with 12 keys to help senior living providers increase their occupancy.   Masson developed this expertise as a marketing consultant, sought-after blogger for senior housing and a regional marketing director of continuing care retirement communities in several markets.  She has also been a corporate director of sales and a mystery shopper for independent living, assisted living, memory care and skilled care nursing communities in multiple states.  Most recently Masson was recruited to consult for two debt-free Continuing Care Retirement Communities in Southern California – Freedom Village in Lake Forest and The Village in Hemet, California.  Interestingly, this career started when she was looking for a place for her own mom and helped her loved one transition through three levels of care.
© Marketing 2 Seniors| Diane Twohy Masson 2013 All Rights Reserved. No part of this blog post may be reproduced, copied, modified or adapted, without the prior written consent of the author, unless otherwise indicated for stand-alone materials. You may share this website and or it's content by any of the following means: 1. Using any of the share icons at the bottom of each page. 2. Providing a back-link or the URL of the content you wish to disseminate. 3. You may quote extracts from the website with attribution to Diane Masson CASP and link http://www.marketing2seniors.net For any other mode of sharing, please contact the author Diane Masson.