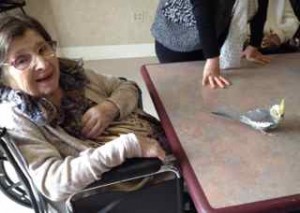 My mom is 91 years old and has vascular dementia.  She has slowly declined over the last nine years.  Through my research, I can assume she is in one of the last two stages of dementia (there are seven).  My mom has been in skilled nursing care for the last 9½ months and needs 100% assistance.  The last thing that she could do on her own was feed herself.
Now she has dramatically declined in the last month and even needs assistance with eating.  She is still a good eater, but does not have the cognition to eat on her own.  It is too much work for her.  Her short-term memory seems like it has decreased to about one-second.
Antipsychotic medications have reduced the amount and the intensity of her delusions, anxiety, crying and irritability.  There have been medications added, increased and decreased in the last four months.  It has been a balancing act to try to improve the quality of her emotions and cognition without having her become lethargic.
Now my mom's memory loss has affected her ability to walk.  At the last care conference meeting, we discussed the quality of her life and whether it is a good idea to try to make someone walk or not.  It takes constant encouragement to get her walking and she keeps trying to sit down. I have advocated for the caregivers to keep trying to walk her daily.  They never make her, but lots of encouragement can produce a walk to breakfast or lunch.  By dinnertime, my mom's Sundowners Syndrome with anxiety and crying make it impossible to walk her.
My mother seems confused and miserable when she walks and just wants to sit down.  I want to try to decide in the next week, if I should just let advocacy regarding walking stop all together.  In my opinion walking seems so important because it gets her circulation going and her memory seems to clear up.  When the walking officially stops, the memory will for sure get worse.  Maybe I just need to accept my mom is in the final stage of dementia and have her enjoy what she can…like playing with the new bird at the community.
Please share your successes, failures or comment below to join the conversation and interact with other senior living professionals on what is currently being effective to increase occupancy on a nationwide basis.
Diane Twohy Masson is the author of "Senior Housing Marketing – How to Increase Your Occupancy and Stay Full," available at Amazon.com with a 5-star rating.  The book is required reading at George Mason University as a part of its marketing curriculum.  Within this book, the author developed a sales & marketing method with 12 keys to help senior living providers increase their occupancy.   Masson developed this expertise as a marketing consultant, sought-after blogger for senior housing and a regional marketing director of continuing care retirement communities in several markets.  She has also been a corporate director of sales and a mystery shopper for independent living, assisted living, memory care and skilled care nursing communities in multiple states.  Currently, Masson is setting move-in records as the regional marketing director of two debt-free Continuing Care Retirement Communities in Southern California – Freedom Village in Lake Forest and The Village in Hemet, California.  Interestingly, this career started when she was looking for a place for her own mom and helped her loved one transition through three levels of care.
© Marketing 2 Seniors| Diane Twohy Masson 2013 All Rights Reserved. No part of this blog post may be reproduced, copied, modified or adapted, without the prior written consent of the author, unless otherwise indicated for stand-alone materials. You may share this website and or it's content by any of the following means: 1. Using any of the share icons at the bottom of each page. 2. Providing a back-link or the URL of the content you wish to disseminate. 3. You may quote extracts from the website with attribution to Diane Masson CASP and link http://www.marketing2seniors.net For any other mode of sharing, please contact the author Diane Masson.