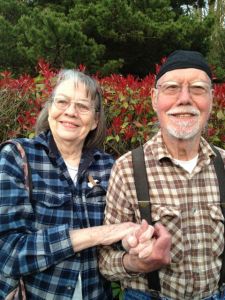 Last week I shared the trauma of an adult child witnessing two parents in crisis at the same time. You can read about that here. Originally my father-in-law, Bill, had been hospitalized from a heart attack and was now going to be discharged from a skilled nursing care community. My mother-in-law, Amy, has Alzheimer's. She had a psychotic break after her husband Bill was hospitalized and was to be released from the locked psych ward at a hospital on the same day. The local children requested that their mother's release be postponed till they settled the dad.
So we had one week to find a quality memory care community that was secure (locked so a senior with dementia or Alzheimer's can't wander into the street and be injured or killed). My husband and I had done our homework to find a senior living community that would be appropriate for Amy (we started our senior housing careers in Seattle).
Admission requirements
Admission to any senior living community usually requires the senior, family and/or the Power of Attorney (POA) to fill out paperwork to show financially responsibility, an assessment of the future resident's medical records and an in-person interview.
Coordinating an admission from the hospital
My husband, Chris, and I had coordinated with a locked memory care community that had an excellent reputation and was located by a local son. It was perfect. They called us on that Monday and told us they were full. Now what? They said no worries we have a sister community who has a room. We said okay. By Tuesday night the sister community had not done an assessment and we wanted Amy moved before the weekend. Why should she stay at the hospital when she had graduated out of needing it?
We decided to be proactive and spoke with two more memory care communities who would take Amy. Chris and I asked his brother to compare these two memory care communities by touring them and seeing residents and staff for himself. With a map and cell phone in hand, the local brother set out to locate the first community. After two hours, he could not find it, so he gave up and went home. He never called us till that evening. So we wasted a day. On Thursday, we gave the same local brother detailed directions to find the two memory care communities and sent him to find and compare both places. He only found the memory care community he couldn't find the day before. He toured the sister community, which had still not assessed Amy for four days. It did not look great. Now what? It was scramble time.
I called a secure memory care in Seattle who was referred to me by a previous co-worker. It was 15 miles further away. The community was 100 percent responsive and said they could assess Amy the next morning (Friday AM) and if everything worked out have her placed by Friday evening. Whew!!! We had a family conference on the phone that lasted till 10:00 PM.  The location was not ideal, but all three children were on board and we had a plan.
On Friday AM, the secure memory care in Seattle called the local son who is the POA to gain access to Amy's records. He said, "Oh, I thought another community was assessing her?" The community texted my husband Chris and he had to leave an event with 65 seniors attending to keep the assessment on track. The local son had slowed down this assessment process with a single question. He never realized what he had done.
The secure memory care in Seattle assessed her at 1:00 PM and still had three questions to get answered before they accepted her. Why did Amy hit the nurse, why were the police called several times and why were other communities rejecting her? I explained everything including the fact that one memory care was full and that the sister community was not assessing her in a timely fashion.
The secured memory care in Seattle accepted her by 2:00 PM, but the hospital told them that they would be short-staffed this holiday weekend and it would be easier to process Amy's release on Tuesday. Are you kidding me? Chris coached his brother (the POA) what to say to the hospital, so we could get Amy released on Saturday AM or Monday AM. The hospital said, "No, we will release her on Tuesday." Really??? This is wrong!
So why did the hospital not release her? Keeping the occupancy up? Lazy? My poor mother-in-law is literally trapped in a short-staffed institution for four more days. The injustice of this situation has plainly made me ill and I am fighting a horrible cold.
Diane Masson's new guide book for seniors, "Your Senior Housing Options," will be will be coming soon to Amazon.com. If you sign up for my weekly newsletter on the right side of this blog, you will be notified when my new book becomes available. Check out my new website: Tips2Seniors.com or please follow me on Facebook.
Diane Twohy Masson is the author of "Senior Housing Marketing – How to Increase Your Occupancy and Stay Full," available at Amazon.com with a 5-star rating.  The book is required reading at George Mason University as a part of its marketing curriculum.  Within this book, the author developed a sales & marketing method with 12 keys to help senior living providers increase their occupancy.   Masson developed this expertise as a marketing consultant, sought-after blogger for senior housing and a regional marketing director of continuing care retirement communities in several markets.  She has also been a corporate director of sales and a mystery shopper for independent living, assisted living, memory care and skilled care nursing communities in multiple states.  Currently, Masson is setting move-in records as the regional marketing director of two debt-free Continuing Care Retirement Communities in Southern California – Freedom Village in Lake Forest and The Village in Hemet, California.  Interestingly, this career started when she was looking for a place for her own mom and helped her loved one transition through three levels of care.
© Marketing 2 Seniors| Diane Twohy Masson 2015 All Rights Reserved. No part of this blog post may be reproduced, copied, modified or adapted, without the prior written consent of the author, unless otherwise indicated for stand-alone materials. You may share this website and or it's content by any of the following means: 1. Using any of the share icons at the bottom of each page. 2. Providing a back-link or the URL of the content you wish to disseminate. 3. You may quote extracts from the website with attribution to Diane Masson CASP and link http://www.marketing2seniors.net For any other mode of sharing, please contact the author Diane Masson.