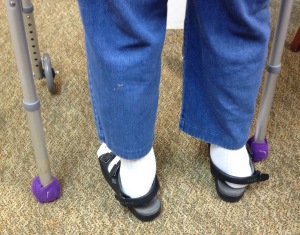 It's hard to be an advocate for a senior for years on end. I advocated for my own mom (with vascular dementia) for over 10 years, until I recently lost her. Advocacy is not an easy job and it can entail sleepless nights of concern.
It's vital to select a Power of Attorney (POA) who currently knows you well enough. If you can no longer speak on your own behalf, your POA needs to know if you are over medicated or sedated just by looking at you. They need to know your baseline so they can help you and reverse the issue or accelerate an outcome in a timely fashion.
The POA's main purpose is to comply with your wishes that were indicated before you became incapacitated. They should always protect your best interests both mentally and physically.
Over medication is a growing problem for seniors. I have heard many stories of hospitals overmedicating seniors. My own mother-in-law was over sedated in the emergency room. She has Alzheimer's. They had no room in the psych ward and she was drug restrained for three days and two nights in the emergency room. Sigh…
It has taken us four months to get my mother-in-law off Haldol. Psychotropic drugs and dementia do not mix well. Her POA thought the doctors understood what they were doing tapering off the medication. Unfortunately, my mother-in-law's doctor admitted to knowing nothing about psychotropic drugs and was relying on others to advise her. Gulp… What a mess! We are talking about seniors' lives…
Neither the doctor nor the POA knew what to do about my mother-in-law's medications or where to begin. It literally required a family member taking my mother-in-law to her doctor and demanding, in person, for the Haldol to terminate immediately. The doctor could see for herself the sedation instead of relying on the input from home health professionals. The weird part was the doctor agreed to terminate the Haldol in three days. We wondered why wait three days? It turned out she wanted a psych nurse to visit my mother-in-law while she was still on the Haldol. The psych nurse agreed to terminate the Haldol too. Here is the horrible part; the psych nurse ordered a different psychotropic drug on an as needed basis. What?? It took the family helping the POA another week to reverse that fiasco.
Why are doctors prescribing psychotropic drugs to seniors with dementia in the first place?
A POA needs to be vigilant.  It may require educating themselves about medications that they no nothing about. Very few POA's are doctors and nurses. If you are the parent of a doctor or nurse who will be your POA, then congratulations are in order for you.
What about a senior with neuropathy in his or her feet? Something as simple as buying quality shoes, so a senior has better balance is key. Will the POA do it?
What if your POA is an attorney or an absentee POA relative who rarely visits, how can they understand or advocate for your needs?
A POA needs to be willing to speak to the doctor on your behalf. Some possible POA's are very direct (speak their mind) and others are indirect (prefer to fade into the background). Some folks are introverted and others are extroverted. Who are you asking to be your POA? Will they get the job done? This is not a position for sissies. Your POA needs to be hardcore if you are in dire need. Your POA may have to spend relentless hours pursuing a medication result that is beneficial for your needs.
What have you encountered? Who have you selected to be your POA? Do you feel good about your decision?
Don't wait until you're in a health care crisis like author Diane Masson's in-laws. It has been a nightmare for her in-laws and all the adult children. Research your future choices NOW to avoid being "put" somewhere, or having decisions made for you by others.  "Your Senior Housing Options" is a new resource book available on Amazon.com with a 5-star rating. It offers a step-by-step guide to the options, including staying home. 
Seniors, Boomer children, spouses, family members and caregivers are desperate to learn how to truly differentiate good senior housing from mediocre at best. Diane Masson's new book will answer these heart-wrenching issues in an easy, simple, story telling format with humorous illustrations. 
Diane has worked in senior housing for 17 years and is the regional marketing director for two debt-free Continuing Care Retirement Communities in Southern CA (Freedom Village in Lake Forest and The Village in Hemet).  Her first book "Senior Housing Marketing – How to Increase Your Occupancy and Stay Full," is being utilized by senior housing professionals across the country.
For weekly tips and advice go to www.Tips2Seniors.com and learn more from author and senior housing expert Diane Twohy Masson.