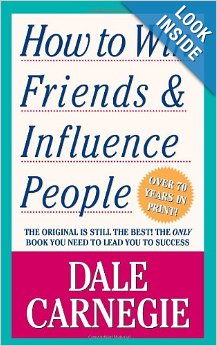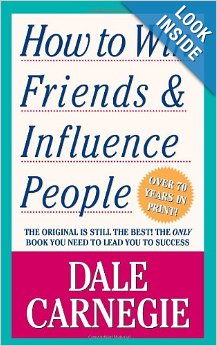 One of the greatest human desires is to be appreciated.  A lack of appreciation is the number one reason why a senior living sales person takes a job at another retirement community.  Did you know that a person could literally go insane with a lack of appreciation?  It's true!
Have you analyzed yourself lately?  How are you at appreciating your senior living co-worker, your family or even your spouse?
Are you already defending yourself inside your head?  I thought that I was doing a good job too, until… my senior living sales teams started a new book review.  Yes, we started reading one of the greatest books every written – "How To Win Friends and Influence People," by Dale Carnegie.
Do you have a favorite book that you refer back to every year or two?  This book is mine.  It suddenly puts me back on track to be a caring human being again.  It's funny how we can get in a rut without knowing we are in a rut.  We get so busy and focused on accomplishing the goals that we forget to treat people the way we would wish to be treated.
The book suggests highlighting key phrases to refer back to and reading each chapter twice.  Here are three great principles that I need to utilize everyday:
Don't criticize, condemn or complain.
Give honest and sincere appreciation.
Arouse in the other person an eager want.
Every single one of my team members commented on how he or she treats a senior living prospective resident better than a co-worker or family.  Do you?  Do you want to start a new habit today?  It is up to you…
Please share your success, failures or comment below to join the conversation and interact with other senior living professionals on what is currently being effective to increase occupancy on a nationwide basis.
Diane Twohy Masson is the author of "Senior Housing Marketing – How to Increase Your Occupancy and Stay Full," available at Amazon.com with a 5-star rating.  The book is required reading at George Mason University as a part of its marketing curriculum.  Within this book, the author developed a sales & marketing method with 12 keys to help senior living providers increase their occupancy.   Masson developed this expertise as a marketing consultant, sought-after blogger for senior housing and a regional marketing director of continuing care retirement communities in several markets.  She has also been a corporate director of sales and a mystery shopper for independent living, assisted living, memory care and skilled care nursing communities in multiple states.  Most recently Masson was recruited to consult for two debt-free Continuing Care Retirement Communities in Southern California – Freedom Village in Lake Forest and The Village in Hemet, California.  Interestingly, this career started when she was looking for a place for her own mom and helped her loved one transition through three levels of care.
© Marketing 2 Seniors| Diane Twohy Masson 2013 All Rights Reserved. No part of this blog post may be reproduced, copied, modified or adapted, without the prior written consent of the author, unless otherwise indicated for stand-alone materials. You may share this website and or it's content by any of the following means: 1. Using any of the share icons at the bottom of each page. 2. Providing a back-link or the URL of the content you wish to disseminate. 3. You may quote extracts from the website with attribution to Diane Masson CASP and link http://www.marketing2seniors.net For any other mode of sharing, please contact the author Diane Masson.