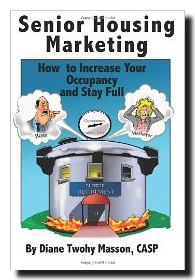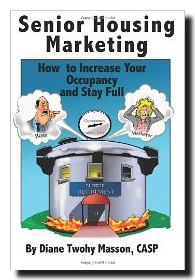 Every organization approaches goals a little differently.  Some senior living communities set sales and occupancy goals that are never achieved.   Each month and year the occupancy dips a little lower with constant resident attrition.  How do you get ahead of the curve?
Well, someone needs to create a sales and marketing strategic plan for your individual independent living, assisted living, memory care, skilled nursing care or Continuing Care Retirement Community.  The plan needs to be implemented and every sales person and operational team member needs to be on board.  The focus should be on the simultaneous goals of serving the existing residents and increasing the occupancy with new move-ins.
There are twelve keys that I have developed to increase the occupancy of all types of senior housing.  Some keys can be implemented immediately for quick results and other keys are a process that can take some time to develop and execute.   The bottom line is these twelve keys work and it is my joy to reach 100% occupancy.  Here are the keys in a nutshell; the details are contained in my book called Senior Housing Marketing – How To Increase Your Occupancy and Stay Full:
Key 1 – Attitude toward Occupancy – Turn Your Change into Dollars
Occupancy-driven Marketing Reports that will Wow Your CFO
Key 2 – Quit Blabbing! Control the Flow of Information
Tip: Five Steps to Controlling the Flow of Information
Decreasing Apartment Availability
Create Urgency for the Wait List
Key 3 – Dare to Differentiate Yourself from Your Competition
Keep the Waiting List FULL through Branding
Key 4 – Do You Have Proactive or Reactive Marketing?
Effective Follow-Up Inquiry Goals
The Typical Behavior of the Average Prospective Resident
Follow Up – When and How Much?
Key 5 – Building Value for Your Community – Giving a Wow Experience!
"How much does an apartment cost?"
Let them push up the price point
Key 6 – Great Events can fill Your Building
What is the timing of an effective program?
Step-By-Step Event Planner Guidelines
Key 7 – Never Say to the Customer…
Use health services words that add value and differentiate you from the competition!
Key 8 – Selling to Personalities
Are you selling to their personality type—or yours?
Key 9 – Hard or Soft Closing?
Hot Buttons
Objections
Recognizing Buying Questions
Types of Closes
Make Urgency!
Key 10 – Internal Customers – no need to worry about them, right? Wrong!
Key 11 – Join the Twenty-first Century with your Website, E-mail Blasts, and Social Media
How can you save money building a website?
"I just don't have time to be responsible for social media…"
Key 12 – Media Buying, Public Relations, and Community Relations with a Skinny Piggy Bank
Keeping the costs affordable in the marketing plan
The magic three to build attendance at an event
Please share your success, failures or comment below to join the conversation and interact with other senior living professionals on what is currently being effective to increase occupancy on a nationwide basis.
Diane Twohy Masson is the author of "Senior Housing Marketing – How to Increase Your Occupancy and Stay Full," available at Amazon.com with a 5-star rating.  The book is required reading at George Mason University as a part of its marketing curriculum.  Within this book, the author developed a sales & marketing method with 12 keys to help senior living providers increase their occupancy.   Masson developed this expertise as a marketing consultant, sought-after blogger for senior housing and a regional marketing director of continuing care retirement communities in several markets.  She has also been a corporate director of sales and a mystery shopper for independent living, assisted living, memory care and skilled care nursing communities in multiple states.  Most recently Masson was recruited to consult for two debt-free Continuing Care Retirement Communities in Southern California – Freedom Village in Lake Forest and The Village in Hemet, California.  Interestingly, this career started when she was looking for a place for her own mom and helped her loved one transition through three levels of care.
© Marketing 2 Seniors| Diane Twohy Masson 2013 All Rights Reserved. No part of this blog post may be reproduced, copied, modified or adapted, without the prior written consent of the author, unless otherwise indicated for stand-alone materials. You may share this website and or it's content by any of the following means: 1. Using any of the share icons at the bottom of each page. 2. Providing a back-link or the URL of the content you wish to disseminate. 3. You may quote extracts from the website with attribution to Diane Masson CASP and link http://www.marketing2seniors.net For any other mode of sharing, please contact the author Diane Masson.