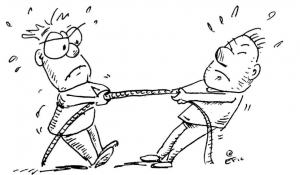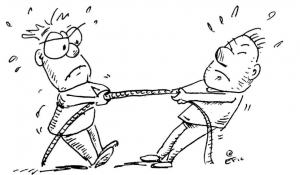 Are you fighting with prospective residents who are in denial?  I don't mean physical punches… After they ask a question or make a comment, are you coming at them with a quick verbal rebuttal?  Stop it!!!  Many senior living sales people don't even realize that they are arguing with the prospective resident.
It can be very difficult to evaluate yourself and recognize your own faults.  Do the best you can to catch yourself saying a "but" or ask a co-worker/supervisor to listen to one of your tours.  When the prospective senior says something like, "I love my home and can't see myself moving."  I have heard sales people say, "But…you don't see how wonderful life could be here." Or a senior says, "I am doing fine in my own home."  (They can barely walk and you recognize an unsafe situation for them living at home.)
The prospective senior is in denial.  It is so common.  Don't fight them, they will just get irritated and go to your competitor down the road.  There are three easy solutions to deal with denial.
1)   Ignore the senior's denial and keep educating them on the benefits of living at your community.  I don't mean – shoving it in their face.  Some seniors have so much denial that it could take them months or a few years to recognize the benefits of living at your senior living community.  Keep inviting them to events.  Eventually they can see the lifestyle in your independent or Continuing Care Retirement Community is better than living in their own home.
2)   If you work in an assisted living or memory care community, time may be of the essence with a need driven situation.  Get the phone numbers for the adult children and work through them.  A strong Boomer child, who understands that his or her mom or dad is unsafe, can create a 48 hour or one week move in for the parent.  Invite the children to dine at your retirement community with the parent.  It's magical, how quickly they select an apartment and put down a deposit.
3)   When they say, "I love my home with the 180 degree view of the water and mountain."  Don't interrupt!  Let them go on for five minutes or more about their lovely home.  Then causally say, " Your home sounds lovely, why are you here?"  Whatever comes out of their mouth is the real reason.  Now it is up to you to provide a solution and collect a deposit.
Remember that everyone walks in the door of your retirement community for a reason.  Yes, they can be in denial, but they came to you.  Help them, by listening and exploring an implied need.  Then provide a solution – gently…
Please share your successes, failures or comment below to join the conversation and interact with other senior living professionals on what is currently being effective to increase occupancy on a nationwide basis.
Diane Twohy Masson is the author of "Senior Housing Marketing – How to Increase Your Occupancy and Stay Full," available at Amazon.com with a 5-star rating.  The book is required reading at George Mason University as a part of its marketing curriculum.  Within this book, the author developed a sales & marketing method with 12 keys to help senior living providers increase their occupancy.   Masson developed this expertise as a marketing consultant, sought-after blogger for senior housing and a regional marketing director of continuing care retirement communities in several markets.  She has also been a corporate director of sales and a mystery shopper for independent living, assisted living, memory care and skilled care nursing communities in multiple states.  Most recently Masson was recruited to consult for two debt-free Continuing Care Retirement Communities in Southern California – Freedom Village in Lake Forest and The Village in Hemet, California.  Interestingly, this career started when she was looking for a place for her own mom and helped her loved one transition through three levels of care.
© Marketing 2 Seniors| Diane Twohy Masson 2013 All Rights Reserved. No part of this blog post may be reproduced, copied, modified or adapted, without the prior written consent of the author, unless otherwise indicated for stand-alone materials. You may share this website and or it's content by any of the following means: 1. Using any of the share icons at the bottom of each page. 2. Providing a back-link or the URL of the content you wish to disseminate. 3. You may quote extracts from the website with attribution to Diane Masson CASP and link http://www.marketing2seniors.net For any other mode of sharing, please contact the author Diane Masson.