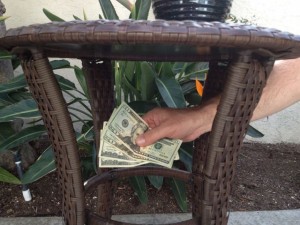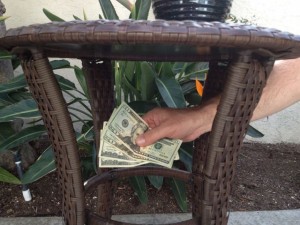 Potentially a senior can save significant money by hiring a companion recommended from church or their neighbor's friend who has been out of work. It's a win/win for everybody – right? Wrong!   What is their recourse if this win/win situation starts going badly? There is no boss or company where they can voice concerns.
Last week, I attended the Care Revolution Conference in Anaheim, CA and met over 20 home care company owners and managers. One manager shared that the majority of her potential caregiver applicants do not pass the drug screening. I was shocked. Another home care owner shared that 40% of the remaining applicants don't pass the criminal background check. Reputable agencies have a vetting process so a senior can have confidence about who is in their home providing care.
Home care owners shared with me that seniors who hire a caregiver "under the table," become employers and are responsible for taxes and social security of their employee. Seniors should check with their accountant and consider the ramifications of paying quarterly taxes for an employee. Initially, it may sound like a bargain to pay a caregiver "under the table." Seniors need to consider the long-term financial consequences and legalities. It seems crazy to me that a senior needing help would become an employer and have to pay quarterly taxes.
If a caregiver claims a work injury while working for a senior, costs can climb upwards to $300,000 after surgery, therapies and loss time from work. Some caregivers work for multiple companies, so one never really knows if the injury was from working for the senior or another employer.
Here's a shout out to those reputable home care companies who provide great care to seniors! I had no idea how hard it was for you to find and hire quality caregivers.
This is an excerpt from my new guide book for seniors, "Selecting Senior Housing for Seniors in the Silver Tsunami." It will be coming soon to Amazon.com. If you sign up for my weekly newsletter on the right side of this blog, you will be notified when my new book becomes available. Check out my new website: Tips2Seniors.com or please follow me on Facebook
Photo credit to Moretimeforyou.com
Diane Twohy Masson writes this weekly blog to support and engage with other senior housing professionals.  Her first book is Senior Housing Marketing – How To Increase Your Occupancy and Stay Full.  Many sales teams and organizations have used the 12 keys contained in this book for their weekly book review.
© Marketing 2 Seniors| Diane Twohy Masson 2014 All Rights Reserved. No part of this blog post may be reproduced, copied, modified or adapted, without the prior written consent of the author, unless otherwise indicated for stand-alone materials. You may share this website and or it's content by any of the following means: 1. Using any of the share icons at the bottom of each page. 2. Providing a back-link or the URL of the content you wish to disseminate. 3. You may quote extracts from the website with attribution to Diane Masson CASP and link http://www.marketing2seniors.net For any other mode of sharing, please contact the author Diane Masson.