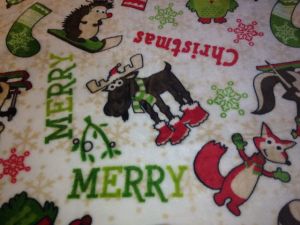 When I brought my mom a Christmas gift from my brother and sister-in-law, she had no recognition on her face as she read the tag. My mom's vascular dementia is stopping her from connecting her son's written name with his face. That part of her brain is gone. So what do you do?
Does your mom or dad have dementia? Are they still at home or residing in an assisted living, memory care or skilled nursing community? My mom has had dementia for 12 years and has lived in skilled nursing care for 19 months. She cannot remember anything and only speaks clearly about 30 to 50 percent of the time.
My recommendation is to give a photo of yourself with your gift. Attach your photo directly to the gift. Your parent has a better chance of recognizing you in the photo than knowing who you are by reading a gift tag.
Here are 10 dementia gift ideas:
A soft lap blanket – I gave my mom a small Christmas blanket and it was a homerun. Every time she sees it, she touches it and comments on the softness. My intention was giving a functional gift (keeping her warm) and an easy way for her to recognize the holiday season. It has really worked, because last night she talked about Christmas on her own.
A manicure or hand massage – Hopefully this can be performed by you? It is a way to connect physically, so they can feel your presence and love. My mom loves having her nails done.
A sweater – A nice red sweater or sweatshirt is always a hit. They like to feel the texture of different clothes. It keeps them warm. Their caregiver will dress them in the sweater and then keep reminding them that it is Christmas time. The red color seems to help the mood of the caregiver, which is always a bonus.
Soft socks – If your mom or dad has swollen ankles, normal socks can feel binding. I get those soft stretchy socks you find in airports. They used to be easy for her to put on herself. Now she needs a caregiver to dress her.
A holiday balloon – My mom used to read the paper daily to know the day and the year. Now, I put up seasonal balloons in her room, so she can know it is her birthday, Thanksgiving, Christmas, etc.
A small fake tree with ornaments – If your parent still lives at home, maybe you can decorate for them? If they live in assisted living, memory care or skilled nursing care a tree always feels like home. Many communities cannot legally allow a real tree because of licensing, so be sure to ask.
A ham – If your parent still lives at home, this is an awesome gift. They can heat the ham or eat it cold. They can make numerous meals out of it including sandwiches or with scrambled eggs. Yum!
Bring lunch to them or go out to eat – Everyone gets sick of their own cooking or the community's cooking. Something different and special is always a hit. The best part is spending time dining with you.
An animated animal – If your parent still lives at home with a pet, then bring a gift for Fido or Fluffy. But if your parent lives in an assisted living, skilled nursing or memory care community a fake moving pet is outstanding. My mom has several fake cats and they completely enamor her, make her smile and laugh out loud. Pets are wonderful.
The very best gift you can give is an hour of your time. Nothing is more important than spending a little quality time together.
Gift giving needs to be adjusted to the level of care and to the severity of your parent's dementia. Good luck and share your other gift tips in the comment section.
Diane Masson's new guide book for seniors, "Your Senior Housing Options," will be will be coming soon to Amazon.com. If you sign up for my weekly newsletter on the right side of this blog, you will be notified when my new book becomes available. Check out my new website: Tips2Seniors.com or please follow me on Facebook.
"Your Senior Housing Options," is dedicated to my mother, whose stories are peppered throughout. Being her advocate for over ten years has taught me to be a better person. My mom has dementia, but I am truly blessed that she still calls me by name. Her smile and joy inspires me to see the positive side of life. It makes me want to reach out and help seniors and their families make better choices today so they can have more secure long-term care plans tomorrow.