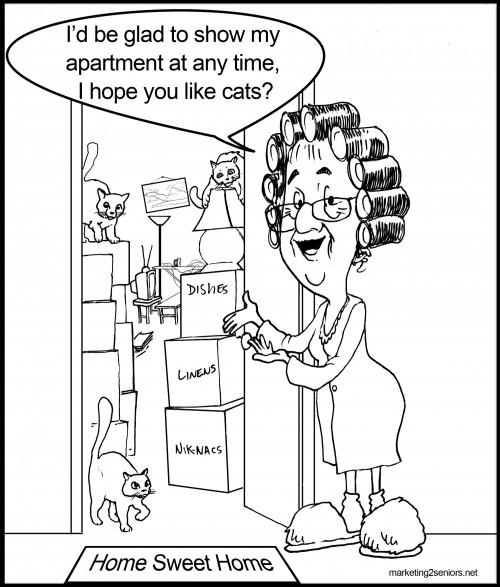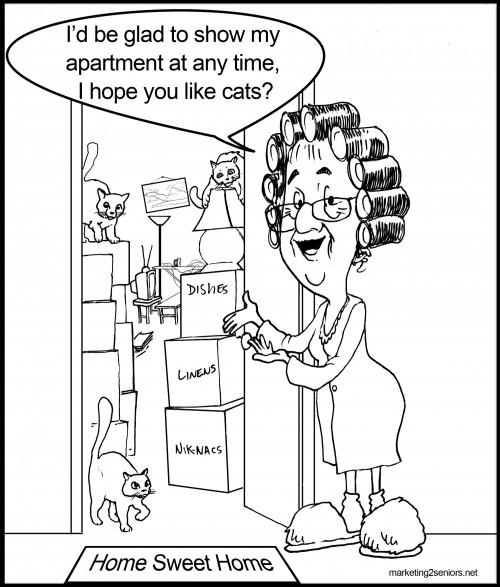 Please share in the comment section below – how your residents either support or sabotage the marketing efforts of your senior living community.
Are you embarrassed to introduce some of your residents on a tour?  Why?
Do you fear what some of your residents might tell prospective senior residents?  Why?
Here is a 5-Step Program to on-board your residents through communication:
Dine with key residents to gain their buy-in for marketing.

Listen to their stories and build relationships with residents.
Create goodwill that will spread through the rest of the community.

Speak at the next resident council meeting.

Share how important residents are to the marketing effort.
Explain how they can help encourage guests to become residents.
Teach them the right language to use – such as "community," not "facility."  Please don't say, "Do you want to become an inmate in this institution." (This has seriously happened to me.)

Write an article for the next resident newsletter.

Have a different theme every month – such as refer your friends and receive $500 on your next monthly bill or thanking them for dining with new residents.
Praise supportive residents and how they helped marketing.

Create a memo about your next event and post it through your in-house mail system.

Residents like to know who and why someone is coming to their home.
Invite them to attend the event, if they bring a prospective resident.
Apologize to them, if there is not enough room for residents to participate.

Start a resident contest for a testimonial – on why they enjoy living at the community.

Generate positive energy.
Share the top five answers at the next resident council meeting or in your next monthly article.
Communicate with your current residents.  They love to be in the know.  Hopefully you are blessed with great residents who support all the marketing efforts, programs and events.  I love the residents that I work with – they are the best – how about yours?
Please share your success, failures or comment below to join the conversation and interact with other senior living professionals on what is currently being effective to increase occupancy on a nationwide basis.
Diane Twohy Masson is the author of "Senior Housing Marketing – How to Increase Your Occupancy and Stay Full," available at Amazon.com with a 5-star rating.  The book is required reading at George Mason University as a part of its marketing curriculum.  Within this book, the author developed a sales & marketing method with 12 keys to help senior living providers increase their occupancy.   Masson developed this expertise as a marketing consultant, sought-after blogger for senior housing and a regional marketing director of continuing care retirement communities in several markets.  She has also been a corporate director of sales and a mystery shopper for independent living, assisted living, memory care and skilled care nursing communities in multiple states.  Most recently Masson was recruited to consult for two debt-free Continuing Care Retirement Communities in Southern California – Freedom Village in Lake Forest and The Village in Hemet, California.  Interestingly, this career started when she was looking for a place for her own mom and helped her loved one transition through three levels of care.
© Marketing 2 Seniors| Diane Twohy Masson 2013 All Rights Reserved. No part of this blog post may be reproduced, copied, modified or adapted, without the prior written consent of the author, unless otherwise indicated for stand-alone materials. You may share this website and or it's content by any of the following means: 1. Using any of the share icons at the bottom of each page. 2. Providing a back-link or the URL of the content you wish to disseminate. 3. You may quote extracts from the website with attribution to Diane Masson CASP and link http://www.marketing2seniors.net For any other mode of sharing, please contact the author Diane Masson.