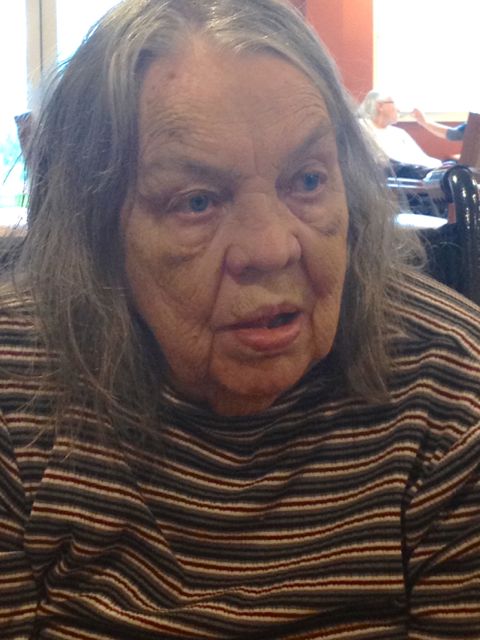 Apparently drugging and diapering seniors in the hospital is common knowledge in higher levels of senior living care, such as assisted living, memory care and skilled nursing?!!?
This is horrifying new knowledge for me. I am all about exposing dirty secrets in my new book, "Your Senior Housing Options." So let me share what I have recently learned through my mother-in-law's experience. My mother-in-law, Amy, has dementia and was cared for by my father-in-law for the last several years. Three days after he had a heart attack, she became psychotic. My husband and I had to hire a geriatric care nurse to help her because we live 1000 miles away. Learn more of the story HERE.
It took over two weeks to get Amy admitted to the hospital (it's a long story). Initially, we were relieved that she was going to get the psychotropic drugs she needed. Since Amy was in crisis mode, we didn't dwell on her being diapered because of diarrhea. She'd had colon cancer 25 years ago and has self-managed her own colon care with diarrhea medications for years.
Costs for Incontinence
As she was in the process of transferring to a secured memory care, I was promised that they would be diligent about avoiding Amy's trigger foods (that cause the diarrhea). My assumption was that she would surely regain continence again. This was vitally important, because incontinence can cost an additional $300 to $1,000 per month depending upon the assisted living community.
My Mother-in-law Was Over Sedated
We flew to Seattle to see Amy and to help find a reasonably priced memory care community for her. She was so sedated that she could not keep her eyes open and kept saying, "I am so tired," over 25 times. She apologized that she needed to lie down and take a nap. She was in a wheelchair and needed a one person transfer to get in bed. What?!!? One month ago, she was walking around. My husband and I were shell-shocked to see her so drugged and lethargic. We talked to the memory care community and they said they would contact the doctor immediately to reduce the medications.
The next day, we arrived to see Amy again. After being told that she was engaged and walking around, we found her asleep in a wheelchair in the middle of a singing class. It was heart wrenching to witness. Again, she spoke of her sleepiness.
Advocacy is Key for a Senior with Dementia
The administrator came over and had the nerve to tell me, "My team feels we should follow the doctor's recommendation of not changing Amy's drugs for one or two months." What?!!? I asked the nurse, "Do you see Amy's lip trembling?" She said, "Yes." I inquired if she saw both of Amy's arms shaking too. She agreed. Then I said, "Do you see how sleepy she is and how her eyes can't stay open?" "Yes," she said. I simply said, "That is not Amy." "Oh," she said, "Then she is on too much medication." "Exactly," I said and was relieved that someone finally understood.
It took till the next evening for the community to contact her doctor and reduce one of her medications by half.
At this point Amy has been drugged and diapered for five weeks (between the hospital and the memory care community).
Conclusion:
That was five weeks too much of over drugging and diapering a senior with dementia. Can she ever come back and resume continence again? Will she be able to walk freely like she used to in her own home? My own mother was given psychotropic medications in skilled nursing care. Four months later, her walking had decreased dramatically; a few months later she became wheelchair bound for life. Was it the drugs or aging decline? I will never know, but I want to protect my mother-in-law from being over sedated and permanently wheelchair bound. I hope she has a fighting chance to walk again.
Drugs as Restraints?
I have talked with several administrators of assisted living and skilled nursing communities. They say it is common for seniors to arrive from the hospital drugged and diapered. The hospital can't use restraints, so they use drugs as restraints. My mother-in-law was prescribed haloperidol twice a day and trazodone four times a day as needed.  Why did the hospital dope her up so much?  It is an advocacy nightmare to get it reversed.
What have you encountered?  Has you ever witnessed the sedation and diapering nightmare of a senior?
Diane Twohy Masson's new guide book for seniors, "Your Senior Housing Options,"  is available on Amazon.com with a 5-star rating.  It reveals a proactive approach to navigating the complex maze of senior housing options. It will help you understand the costs and consequences of planning ahead or waiting too long.
More related articles by Diane can be found at  Tips2Seniors.com or like Tips 2 Seniors on Facebook.
Diane Twohy Masson has worked in senior housing since 1999. She is an award-winning certified aging services professional and the author of Senior Housing Marketing: How to Increase Your Occupancy and Stay Full for senior living professionals.
Among the thousands of seniors she and her teams have assisted in finding the right senior living community, the most difficult case has been helping her own parent. Masson spent two years exploring senior housing options with her mother before finding the ideal Continuing Care Retirement Community for her. After eight years in this independent living setting, she helped her mother transition into an assisted living community. Seven years later, even as a senior housing expert, Masson struggled with the decision to move her mother into a skilled nursing community.