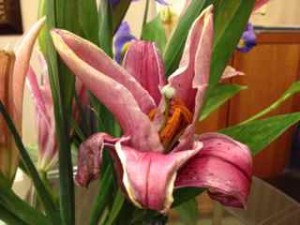 My sweetie didn't intend to send me dead flowers for Valentine's Day.  He saw a beautiful arrangement online and had it delivered to my office as a special surprise.  When I opened the box the flowers were closed, dried out, brown on the petal edges and shockingly in no water.  What??!!?  I pulled them out, read the lovely note from husband and put them in water to save them or bring them back to life.  My husband was upset when he saw them and said he never would have ordered them if he had known they would arrive in this condition.  He thought he had ordered flowers from a florist and they would arrive like the picture shown.
This Valentine snafu reminds me of how adult Boomer children select a retirement, assisted living, memory care or skilled nursing community based on the size of the apartment and what the lobby looks like versus the quality of care.  Almost every Boomer child wants the best for his or her parent, but some judge senior living community solely on external appearances.
In multiple states, I have encountered loving caring staff at senior living communities that have not been recently remodeled, with small apartments or don't have enormous acreage.  It is very challenging to market these properties, but I have witnessed some amazing sales people overcome this dilemma.
They say the best defense is a strong offense.
Here is what one marketer said in Washington state about tired furniture in the lobby: "We don't have a big brand new building with a lavish lobby entrance but what we do have is a very comfortable loving family atmosphere where our residents are the focus of our care and attention."
In Utah, a retirement counselor working at an independent retirement community that needed remodeling would say: "We don't have all the bells and whistles of the community down the street, but we are home to 120 residents and you won't find friendlier staff or residents any where else.  I encourage you to meet some of the residents of both communities and judge for yourself who is happier.  Then decide where you want your mom to live."
An assisted living community in California with less community spaces says: "Initially our community seems small but it is so much easier for our senior residents to live here on a day-to-day basis.  It gives the residents a sense of security to know they can navigate the community without getting lost."
Does your senior living community live up the pictures in your brochure and what the sales people promise?  It's never good to show a wonderful picture and deliver poor quality, like when I received the dead flowers.  If you don't have the ideal gorgeous community, you can still be proud of providing the best care and services to your residents.
Please share your successes, failures or comment below to join the conversation and interact with other senior living professionals on what is currently being effective to increase occupancy on a nationwide basis.
Diane Twohy Masson is the author of "Senior Housing Marketing – How to Increase Your Occupancy and Stay Full," available at Amazon.com with a 5-star rating.  The book is required reading at George Mason University as a part of its marketing curriculum.  Within this book, the author developed a sales & marketing method with 12 keys to help senior living providers increase their occupancy.   Masson developed this expertise as a marketing consultant, sought-after blogger for senior housing and a regional marketing director of continuing care retirement communities in several markets.  She has also been a corporate director of sales and a mystery shopper for independent living, assisted living, memory care and skilled care nursing communities in multiple states.  Currently, Masson is setting move-in records as the regional marketing director of two debt-free Continuing Care Retirement Communities in Southern California – Freedom Village in Lake Forest and The Village in Hemet, California.  Interestingly, this career started when she was looking for a place for her own mom and helped her loved one transition through three levels of care.
© Marketing 2 Seniors| Diane Twohy Masson 2013 All Rights Reserved. No part of this blog post may be reproduced, copied, modified or adapted, without the prior written consent of the author, unless otherwise indicated for stand-alone materials. You may share this website and or it's content by any of the following means: 1. Using any of the share icons at the bottom of each page. 2. Providing a back-link or the URL of the content you wish to disseminate. 3. You may quote extracts from the website with attribution to Diane Masson CASP and link http://www.marketing2seniors.net For any other mode of sharing, please contact the author Diane Masson.