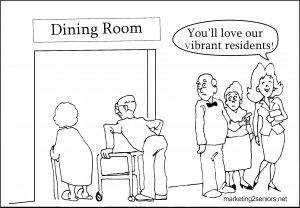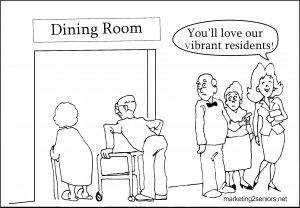 The prospect may say, "I want to think about it."  "I am one or two years away."  "I am not ready yet."  "I am not interested in a pushy salesperson."  Will you still call them back promptly the next day? If not, why not??
The senior living prospect walked in your door for a reason.  They need your services or are considering your services.  They should automatically be classified as warm if they walked into your senior living community.  They may be eating cereal for dinner or sleeping in a recliner chair because the alternatives are too much effort.  This is a viable lead that deserves your time and attention, even if they say, "I am not ready yet."
I find it appalling that some senior living sales people will only give the time of day to a senior that can move in now.  Ultimately, they are neglecting potential sales.  In my experience, only 25% of the seniors say, "I am ready now."  "My home is on the market."  "My kids say I have to move immediately."  "My doctor recommends that I move to assisted living right away."
So this means that the other 75% of potential seniors are too scared to express their needs.  They say a quick statement in the beginning to protect themselves from being SOLD by you.  They have lived in their home for 40 or 50 years.  They don't WANT to move.  They are just beginning to UNDERSTAND that a move would be beneficial to their health and well-being.
Educate this scared senior and show how your Retirement Community, Assisted Living or Continuing Care Retirement Community is the best choice for them.  Then watch your occupancy rise.  The end result will be providing solutions to improve the quality of life for a multitude of seniors.
Do you call EVERY tour back the next day?  If not, why not??
Your tips could help others improve on a national basis, so please share by commenting on this blog.  If this weekly blog can help your sales and occupancy – why not invite your team to sign up today so no one misses a single tip to improve the occupancy? 
Diane Twohy Masson writes this weekly blog to support and engage with other senior housing professionals.  Her first book is Senior Housing Marketing – How To Increase Your Occupancy and Stay Full.  Many sales teams and organizations have used the 12 keys contained in this book for their weekly book review.  Diane is working on her second book to help seniors select their senior housing options.
© Marketing 2 Seniors| Diane Twohy Masson 2014 All Rights Reserved. No part of this blog post may be reproduced, copied, modified or adapted, without the prior written consent of the author, unless otherwise indicated for stand-alone materials. You may share this website and or it's content by any of the following means: 1. Using any of the share icons at the bottom of each page. 2. Providing a back-link or the URL of the content you wish to disseminate. 3. You may quote extracts from the website with attribution to Diane Masson CASP and link http://www.marketing2seniors.net For any other mode of sharing, please contact the author Diane Masson.