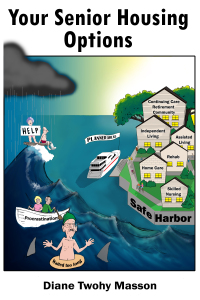 "Your Senior Housing Options" is available now on Amazon.com.
As we age, it's never easy to face the prospect of what to do when we need living assistance. But the reality is that two-thirds of today's seniors will eventually need long-term care, with 20 percent needing it for longer than five years. If you are a retirement-age baby boomer or senior, don't wait for a health crisis to occur. You owe it to yourself—and your family—to plan for the future today.
Although we've all heard horror stories, great facilities where residents are treated like gold are out there. How do you find them? You have to do your homework, ask the right questions, and look beyond the superficial to find what's right for you.
With experience as both an industry expert and a loving daughter, Diane Twohy Masson is passionate about helping seniors find the retirement community that fits their price range, lifestyle, and needs. This brand new guidebook offers a proactive approach to navigating the complex maze of senior housing options. It will help you understand the costs and consequences of the various possibilities including home care, independent living, assisted living, group homes, memory care, and skilled nursing care facilities.
Order a copy of this valuable new resource by clicking HERE.
A valuable source of information by someone who works in the trenches. Whether you or a loved one are currently facing challenges, or if you simply want to be prepared for what you may face in the future, this provides the necessary tools. Knowledge is power.         
Steve Fairfax, Currently helping my neighbor who has dementia
Diane answers questions most of us have not even thought of but desperately need to know. You will find valuable insight into the later years of life.                                       
Dr. Jim Gwinn, Former President, CRISTA Ministries
As accountants, we can crunch the numbers. But Diane has outlined many issues we would never know, but which clearly need to be considered. This is an important resource in understanding key senior living issues.
Craig Huish, CPA, Waterfront CPA Group
Diane Twohy Masson has worked in senior housing since 1999. She is an award-winning certified aging services professional and the author of Senior Housing Marketing: How to Increase Your Occupancy and Stay Full for senior living professionals.
Among the thousands of seniors she and her teams have assisted in finding the right senior living community, the most difficult case has been helping her own parent. Masson spent two years exploring senior housing options with her mother before finding the ideal Continuing Care Retirement Community for her. After eight years in this independent living setting, she helped her mother transition into assisted living community. Seven years later, even as a senior housing expert, Masson struggled with the decision to move her mother into a skilled nursing community.
For more information, visit: www.tips2eniors.com or follow Tips 2 Seniors on Facebook.