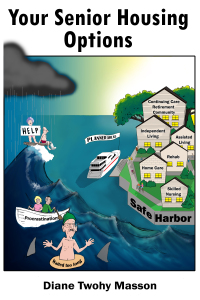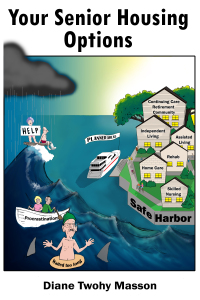 What should this senior couple do? They sold their home that they could not manage any more and decided to move into an independent rental retirement community in Orange County, California. The couple has an income of $3,600 a month, but their monthly rent is $5,200. (The senior couple's rent includes three meals a day, wellness classes, entertainment, housekeeping, transportation and etc.) So $1,600 is taken out of their savings for rent on a monthly basis, plus they still have to pay for telephone, Internet, hair styling, car bills, pharmaceuticals, insurances and possibly even gifts and travel.
This senior couple is just one example. Their plight is not uncommon. Thousands of seniors are concerned that their meager savings are eroding too quickly. 
What happens when a senior needs assisted living? How will they afford it? What if one of them has a debilitating stroke and needs long-term skilled nursing? On a nationwide basis, it averages $80,000 a year.
Are you aware that board and care homes in Orange County California recently went up $1,000 to $1,500 a month because of the increase to minimum wage? Board and cares are the least expensive options for seniors needing assisted living type care. How will seniors afford the care now?
Social security is not increasing for seniors in 2016.
Costs for independent living, assisted living, memory care and Continuing Care Retirement Communities will continue to rise as food, utilities and minimum wage goes up. Most of these retirement communities are saddled with a 50 to 100 million mortgage. The residents will be making those interest payments too.
Here's a tip: Ask what the history of the year-over-year monthly fee increases have been. What will it be in 2016? Some predictions are 5 – 8 percent increases? What have you heard?
It is getting tougher for seniors to make decisions and plan for their future.
Here's another tip: Sometimes that one time investment at a Continuing Care Retirement Community ends up costing you less in the long run. Figure out the break-even point for you. Many offer you support if you outlive your resources. Ask lots of questions and do not rely on verbal promises of senior living sales people.
News Flash: Diane Masson's new interview on Generation Bold Radio will broadcast on Sunday, December 6th on the BizTalkRadio Network syndicated to 33 stations across the country.  
Diane Masson is a senior living expert who has authored two 5-star rated books sold through Amazon. Her new book is an all-encompassing answer guide for seniors called, "Your Senior Housing Options," designed to help seniors navigate choices quickly. The second book was written for senior living professionals called, Senior Housing Marketing – How To Increase Your Occupancy and Stay Full. Reach out to her through her website: Tips2Seniors.com and read the weekly blog.