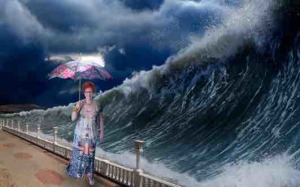 We all have storms in our lives. Maybe the storm is a death, sickness, or major life crisis. It could even be one of Mother Nature's storms such as hurricane, tornado or earthquake. You or a senior you know may be going through a storm at this moment.
At some point the storm always ends. There is peace and calmness again. No one is the same after one of life's storms. The length of the storm will most likely determine the amount of wisdom gained. One of my best friends is a breast cancer survivor. Now she uses the knowledge of her successful treatments and faith to help others. She can make someone elses cancer journey less scary. What a gift!
As retirement counselors in senior living and housing, we can provide that gift of knowledge to a senior considering a move. A senior may feel like they are in a storm processing a major life move to your community. Being pulled toward the benefits of living in a retirement community and simultaneously being drawn back to the security of their home can create conflict for a senior.
Here are a few tips:
First, a retirement counselor needs to acknowledge that a senior is facing an emotional decision (the storm). The decision is to plan ahead or wait until a health care crisis.
Second, if a senior chooses to wait until a health crisis they will be forcing their adult children to eventually "put them someplace" (bigger storm). Many seniors don't realize this truth. Seniors are typically shocked to learn they will have a 66% chance of needing a higher level of care at some point like assisted living or skilled nursing care.
Third, if a senior moves into a senior living community that transitions them into higher levels of care like assisted living and skilled nursing care, it is a proactive choice to plan ahead (smaller storm for the senior and the family in the future).
Retirement counselors in senior housing should focus on educating seniors about their future health care choices and how your retirement community can be a solution.
If you have ever felt slightly sick standing on the deck of a boat in the ocean, the captain always tells you to look toward the horizon. Don't focus on the waves that are swirling close around you. Look beyond to the distant skyline. Seniors need to visualize what they are gaining by making a move and planning ahead for their future care. Others can't get past the overwhelming thought of the turmoil that moving will create for them.
The calm after a storm is usually filled with a sense of peace and wisdom.
Planning ahead could be the greatest gift a senior can give their children. When my mom moved into a Continuing Care Retirement Community in Seattle, WA, it was the smartest decision she ever made. Thank you mom!
How do you help educate seniors?  What tips can you share?
"Your Senior Housing Options," has a simplistic title, but what's inside this new book can save a you months of research time.  Hear Diane Masson's interview of how her mother and in-law's faced the pivotal decision to plan ahead or wait until a crisis.  Learn the pitfalls from transitioning from your home to senior housing.  Understand what questions to ask, insider tips and dirty secrets revealed.  The decision to stay home requires caregivers.  Prevent elder abuse by determining if a home care agency is reputable, before they move into your home.  You are just not looking for today's needs, but for your future care.  Discover key differences between rental facilities vs Continuing Care Retirement Communities.  Do you have enough financial resources if you need to be in a higher level of care for an extended period of time?  For weekly tips join at: Www.Tips2Seniors.com 
Diane Masson has worked in senior housing for 17 years and is the regional marketing director for two debt-free Continuing Care Retirement Communities in Southern CA (Freedom Village in Lake Forest and The Village in Hemet).  Her first book "Senior Housing Marketing – How to Increase Your Occupancy and Stay Full," is being utilized by senior housing professionals across the country.  Both her first book and second book, "Your Senior Housing Options," have a 5-star rating on Amazon.com.