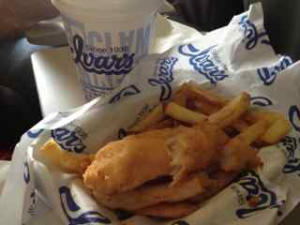 Organizing a move of this magnitude is a pile of paperwork combined with a daughter's worry of every possible outcome going wrong.
The long story short is it took my husband Chris and I, seven hours to move my mom with vascular dementia 1000 miles.  Is it the best thing for her – yes!  Did it almost kill me – yes!  But there were blessings along the way including moments and memories of complete clarity that I will always treasure. I still see my mom in my minds eyes as her former mentally astute self, but now she can't remember what she had for breakfast.  Why I am moving my mom is shared in Part 1.
My Mom's Moving Day
I had a 50/50 chance that she would be having a good day, when we arrived at her assisted living community for the move – it was a BAD day for her.  She was anxious, hungry and wandering around for some attention.  I talked to a caregiver and took her to breakfast in the dining room as my husband packed her suitcases.  The goal was for her not to be stressed out about moving and we accomplished that goal.
Two days before the move, we had organized her entire room and decided what we were taking, what had to be shipped separately and what was going to goodwill.  She never knew, because we took turns with her.
On the way back from breakfast, my mom sensed that something was up.  When four people were outside her door, she asked why.  They scattered and a caregiver gave the morning medications to her.  While she was eating we had gathered all her medications, personal affects and created a special bag to handle incontinence on the way – which was my greatest worry.
She didn't want to get in the car, but Chris and I coaxed her in.  The drive to the SeaTac Airport was enjoyable for her.  My friend Stephen was the driver and he was wonderful with my mom.  The arrival at the airport with the hustle and bustle created immediate anxiety for her.  She thought that she was seeing Chris and I off and wondered when she would see us again. Chris said, that she was coming with us.  She said that she would not get on a plane.  Oh boy…thank goodness for anti-anxiety medications.
Getting through security was crazy, my mom's bag beeped because of liquid medications.  So one of us had to be tested for bomb residue on our hands.  We all got separated, bags were being retested for bombs and my mom was all-alone for 3 minutes.  They ended up testing her for bomb residue – seriously!!?!  Then we headed out to the gate.
I ran to get lunch, because I had promised my mom Ivar's fish and chips.  Every time she asked where we were going, I said to lunch.  She would immediately calm down.
We were wheeling her onto the plane and just as they were transferring her to another wheel chair to take her down the aisle, she announced that she needed to use the restroom.  I just wanted to get her on the plane, but we had to go back to the concourse and use the family restroom.  There was – of course – a wait for it.  We took care of my mom and I thought we would miss the plane, but a security breach had happened and we had to wait another 30 minutes to board.  All our bags, my mom's medications and the lunch were on the plane.
When we finally got on the plane and I said we were having lunch.  My mom said her first funny, "Are you just saying we are having lunch or are we really having lunch?"  I laughed and pulled out the fish and chips.  We really had a great time on the plane, she knew she was on a plane and said she was having fun.  I brought family pictures for her to look at and a stuffed bear to hold.
My mom slowly processed the move on the plane.   She was excited about going to California and remembered being born there and going to college at UCLA.  She was happy, calm and smiling…
My mom was fantastic and the incontinence was not an issue, even after we landed – whew… The Freedom Village driver picked us up and we took her to her new home at the Freedom Village Healthcare Center.  In a week or two, I will describe the transition…
Please comment to join the conversation and interact with other senior living professionals on what is currently being effective to increase occupancy on a nationwide basis.
Diane Twohy Masson is the author of "Senior Housing Marketing – How to Increase Your Occupancy and Stay Full," available for sale at Amazon.com.  Masson's book will be required reading at George Mason University in the Fall as part of the marketing curriculum.  She is currently consulting with Seniors For Living and two debt-free Continuing Care Retirement Communities in Southern California – Freedom Village in Lake Forest and The Village in Hemet, California. Connection and partnership opportunities: Email: diane@marketing2seniors.net