Tips 2 Seniors | About the Book
Selecting Senior Housing Options for Seniors in the Silver Tsunami | Author: Diane Massson
You may be trying to determine how you can age in your own home or if/when you should move to one of those retirement communities…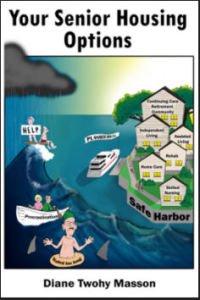 Retirement communities come in all sizes, qualities, licensing and prices.  Let me help guide you through your choices of staying home or how to select a retirement community that will fit your price range and needs.  Whether  you are a vibrant independent senior, lost your partner,  or maybe you have recently had a health care crisis of your own.  This book can help you ask the right questions, give you the inside secrets and  answers you need to choose the best options for you.
This book offers a pro-active approach for each senior to navigate their way in the Silver Tsunami.  It has never been  more important to plan your future as one in eight Americans is aged 65 years and older and by 2030, the senior silver tsunami will explode to one out of five Americans!
For Seniors in the Silver Tsunami Considering All Their Future Housing Options
Remember when your parents' health declined or suddenly they were in crisis mode?  Did you have to "put them someplace?"  Plan ahead so you and your adult children are not in the same boat. Here is what you will find inside…
The facts on home care.

Is there an ideal time to move into a retirement community?

The seven deadly sins of searching for senior housing options.

Senior living options and costs.

Independent living, assisted living, memory care, and skilled nursing.

Key facts on rental communities versus continuing care buy-ins. 

Nine quick tips on selecting the right senior living community.

What are my options, when I have waited too long?
This new guide to the Silver Tsunami …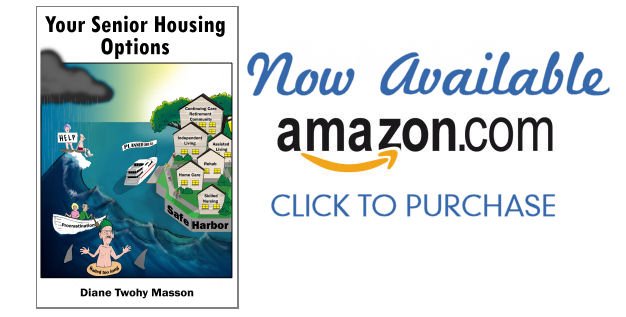 I sincerely hope this information will be beneficial in your search for answers,
Diane Twohy Masson