Welcome to Tips 2 Seniors. My name is Diane Masson and this site is for Seniors surfing the Silver Tsunami…
Tips 2 Seniors is a much needed resource for seniors selecting senior housing options and making smooth transitions later in life, for yourself or your aging parents. I am Diane Masson and I have helped my mom move through Independent Living, Assisted Living and Skilled Nursing through a Continuing Care Retirement Community.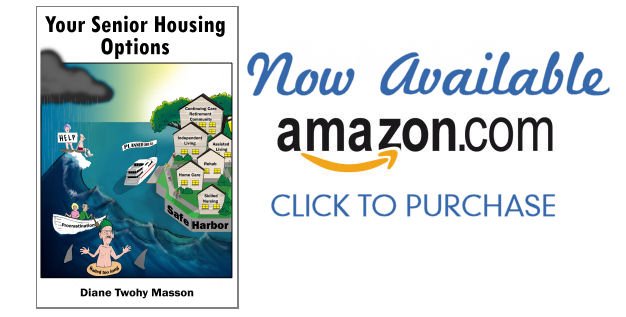 I've taken my experience and inside secrets from working in the industry for 16 years and put on weekly seminars for seniors and now shared them all in a priceless and easy to understand book.  This site is for you the Silver Tsunami. You can subscribe to my weekly newsletter to the right and take a look through the helpful articles below to help you navigate your senior housing options.
Tips 2 Seniors Blog
with Author: Diane Masson

The People's Choice Award for Best Retirement Blog goes to: Marketing2Seniors.net won best retirement blog!  Thanks for your readership and votes! It was an exciting competition to watch as the votes started rolling in at seniorhomes.com. Special shout out to notable retirement blogs in the contest: Retire Fabulously and Retirement Income. The Beginning… Watching thousands of seniors struggle in crisis mode, over the last 19 years, made me groan.  The Tips2Seniors.com blog was my answer to alter seniors procrastination to planning ahead. The blog uncovers aging related stories and outcomes… Tips2Seniors.com pilots seniors on how to pinpoint quality senior housing options and when to take the leap.  It's free advice that can save seniors from stumbling in unknown territory. In the last year, new video interviews were added to the blog… The publishing of "Your Senior Housing Options," resulted in television and radio interviews.  These interviews, along with hundreds of question and answer times during speaking engagements with seniors, contributed to the blog content. It has been my honor to serve seniors, family members and senior housing colleagues through  my blog.  Thank you seniorhomes.com for this recognition.   Sincerely, Diane Twohy...