Welcome to Tips 2 Seniors. My name is Diane Masson and this site is for Seniors surfing the Silver Tsunami…
Tips 2 Seniors is a much needed resource for seniors selecting senior housing options and making smooth transitions later in life, for yourself or your aging parents. I am Diane Masson and I have helped my mom move through Independent Living, Assisted Living and Skilled Nursing through a Continuing Care Retirement Community.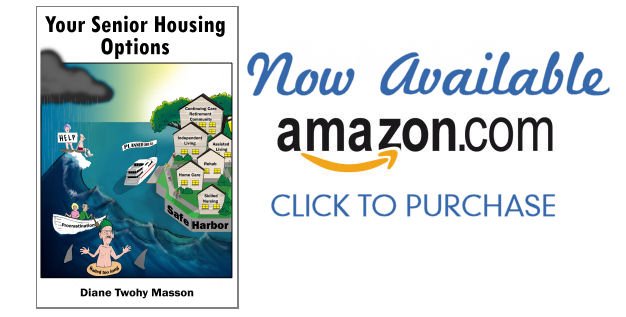 I've taken my experience and inside secrets from working in the industry for 16 years and put on weekly seminars for seniors and now shared them all in a priceless and easy to understand book.  This site is for you the Silver Tsunami. You can subscribe to my weekly newsletter to the right and take a look through the helpful articles below to help you navigate your senior housing options.
Tips 2 Seniors Blog
with Author: Diane Masson
This blog, Marketing 2 Seniors, is nominated for being one of the best national retirement blogs for seniors.  Please support this blog with votes! How to vote:  Click on the link below for seniorhomes.com, find Marketing2Seniors.com (its got a green box toward the top) and vote underneath the description.  Marketing2Seniors is one of 41 blogs nominated nationally.  Please vote and get a friend to vote too!  Thank you in advance!  This blog is currently in second place. One of the ways our site can advance is through your popular votes. There are just 4 days to vote for Marketing2Seniors.com. All your votes are appreciated. https://www.seniorhomes.com/wordpress/best-retirement-blogs-2017/ Diane Masson has empowered thousands of seniors to plan ahead and gives great tips for adult children whose parents are in a health care crisis.  "Your Senior Housing Options," is an award winning book that can answer all your questions and empower you to help any struggling senior.  More free tips...