Welcome to Tips 2 Seniors. My name is Diane Masson and this site is for Seniors surfing the Silver Tsunami…
Tips 2 Seniors is a much needed resource for seniors selecting senior housing options and making smooth transitions later in life, for yourself or your aging parents. I am Diane Masson and I have helped my mom move through Independent Living, Assisted Living and Skilled Nursing through a Continuing Care Retirement Community.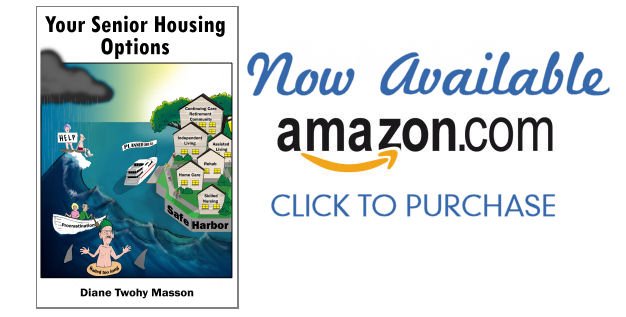 I've taken my experience and inside secrets from working in the industry for 16 years and put on weekly seminars for seniors and now shared them all in a priceless and easy to understand book.  This site is for you the Silver Tsunami. You can subscribe to my weekly newsletter to the right and take a look through the helpful articles below to help you navigate your senior housing options.
Tips 2 Seniors Blog
with Author: Diane Masson
Here are some simple tips to create positive Public Relations for your senior living community by supporting your local Alzheimer's Walk. First, Freedom Village in Lake Forest, California  brainstormed on how to raise money for the Alzheimer's OC Walk by involving residents and staff. Second, Freedom Village had two fundraisers: A staff talent show for the residents.  The Human Resources Director organized the the talent show and the Activity Director invited the residents.  The admission ticket was any donation to Alzheimer's.   Both the dress rehearsal at the all staff meeting and the main show for the residents were full houses. The Sunshine Group at Freedom Village had been making adult coloring placemats for skilled nursing resident's food trays.  Select drawings were shrunk down, shellacked onto tiles and sold in four packs with stickers notating the resident artist. Third, residents, staff and a Girl Scout troop proudly arrived at the walk wearing "Freedom to Thrive" T-shirts. PR results of Freedom Village participating in the Alzheimer's OC Walk in Laguna Niguel: Raising $4,620 and becoming the top fundraising team. Winning the Spirit Award! Being featured on the front page of two local newspapers: Aliso Viejo and Laguna Niguel. The Community Relations Director was interviewed on local TV discussing the walk. This is a simple recipe for PR success, but it took a lot of teamwork.  This project was overseen by a very creative community relations director, Stephanie Riggs. What are your ideas? More free tips about marketing senior living are available through the marketing 2 seniors blog.  Diane Masson has authored two books about senior living: Senior Housing Marketing – How to Increase Your Occupancy and Stay Full...